Team Expectations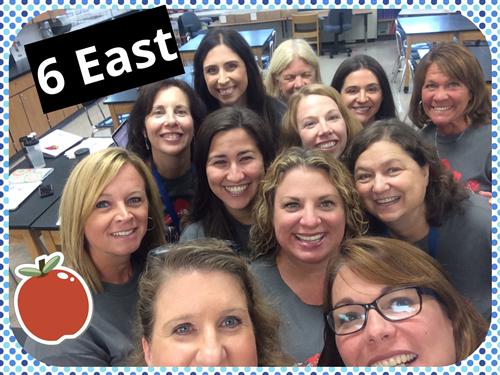 6 East expects all students to follow the Character Counts Pillars (Respect, Caring, Responsibility, Citizenship, Fairness, Trustworthiness) on a daily basis.
Follow us on Twitter! https://twitter.com/sms6east1 @sms6east1
Our science teachers tweet @south6thscience
Team Approach
Our approach is "a school within a school." We have a core set of teachers on 6 East. We meet everyday and discuss students, work on curriculum, plan, and share ideas.
Ellie Branson: ELA
ebranson@sd25.org
Nicole Bielawa: Resource
nbielawa@sd25.org
Kirsten Calderone: Team Leader and Science
kcalderone@sd25.org
Christine Fontanetta: ELA
cfontanetta@sd25.org
Amy Weiss: Social Studies
aweiss@sd25.org
Kay Zimmanck: Math
mzimmanck@sd25.org
Sophia Vassos: PE
svassos@sd25.org
Rebecca Maddalozzo: ELL
rmaddalozzo@sd25.org
Lindsay McNaught: Creative Arts
lmcnaught@sd25.org
Jennifer Smith: Tech Coach
jsmith@sd25.org