Return to Headlines
Live from Olive, it's honor and pride!
October 5, 2016
Olive-Mary Stitt Elementary – Normally the Library Media Center at Olive is silent just before 9:05 am as the final touches to the morning announcements are being prepared, but last Friday (September 30) there was an abundance of chatter and energy as the student anchors set up to address their student body and introduce and honor some special guests.
Family members and friends of Olive who served in the military were lined up outside the on-air studio, reminiscing and connecting, waiting to receive their certificate and to show the students and staff at Olive who they are.
"I applaud the administration for preparing this unique event to broaden the scope of their understanding," Mr. Glen Ramsborg, Colonel retiree of the United States Air Force. "It is my hope that a discussion about all service men and women began after the annoucements."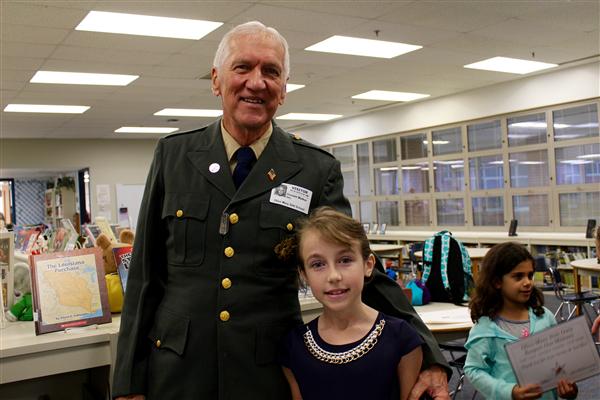 Ramsborg and most of the other veterans in attendance wore their uniforms and answered questions from the students (mostly family members) who invited them. Grandchildren and children of these veterans not only had the opportunity to stand by on the live announcements as their veteran was honored, but this event gave these children a chance to connect and learn about what it means to be a veteran and what the service was like.
"This is a great opportunity for myself and my granddaughter," said Mr. Matker who served as in Army Aircraft Maintenance. "It's a bonding experience together and it allows for an opportunity to talk about the past."
This was a partnership effort put together by the PTA and the Olive Service Learning Club. As the veterans were introduced, there were many smiles and even some tears as emotions flowed through the lens and into the classrooms.