Return to Headlines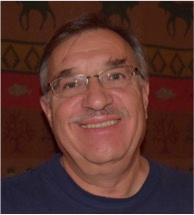 We remember WHEN Mr. Figlewicz taught at Thomas Middle School, and he remembers a lot more! Mr. Figlewicz was kind enough to give us a few minutes and answer some questions to get us all caught up on his life since retiring. The following is what we found out!
Can you start by telling us the details of your career in District 25?
In 1971, I interviewed at Golf Middle School and was offered a job, but they happened to be out of paper contracts, so I couldn't sign one. I was supposed to go back the next day and sign the contract, but I returned home to hear that District 25 had called several times. Out of curiosity, I returned the calls and interviewed with Thomas Middle School's Principal, Bob Spinks. He offered me a job and I signed my contract. For the next 34 years I worked in this fabulous district. I started out teaching science to sixth, seventh and eighth graders. When we adopted the team teaching model, I brought the concept of Science Fair to the district; we felt that 7th grade would best benefit from that experience, so that's where I settled in. I am proudest of fostering Science Fair, the Outdoor Education Experience at Lorado Taft, and Science Olympiad in D25.
What is your fondest memory of working in D25?
My fondest memories all stem from the students. I am privileged to have had the opportunity to get to know the students and their parents on an intimate level, both in and out of the classroom; that experience is indelible in my memory. Because I encouraged my kids and students to participate in after-school and extra-curricular activities, I became friends with many D25 families. Together we caroled, water and snow skied, held paper drives, landscaped the Thomas grounds and nature court, and learned to work and play as a team.
Finish this sentence: "I remember when…"
I remember when…a squirrel crawled up my pant leg. As Thomas's Science Department Chair, I had the before-school job of checking on all the animals we had living in the nature court. One day, as I made my rounds, a wild squirrel crawled up my bell-bottoms. Since I couldn't stop him from continuing, I "dropped trou," only to find the windows lined with the Thomas teachers, enjoying the show.
What have you been up to since retiring?
After retiring in 2004, I continued serving on the board for the Illinois Jr. Academy of Science (Science Fairs) for four years. I currently volunteer for the Golden Apple Foundation, participate on the board for the Illinois Science Olympiad and act as an arbitrator for the Wisconsin and National Science Olympiads. On a personal/fun note, I spend my time woodworking, gardening, fishing, enjoying time in the northern woods of Wisconsin, and entertaining! I love to connect with former students and staff on Facebook.
What did you enjoy most about working in D25?
I loved the, aha moments! I treasured watching the second a student's light bulb would go on and they got it! I also enjoyed the family atmosphere, allowing kids, parents, teachers, and administrators to work together to always do what was best for kids.
How's the fam…?
My family is very important to me. My wife and I enjoy all the time we spend together as partners in crime in all our endeavors. Our son, the second "Mr. Fig," followed in our footsteps and became a teacher; he is now the Assistant Band Director at Fremd High School. He is also pursuing a master's degree and works part time teaching for the Cavaliers Drum Corps in Rosemont. Our daughter, Dr. Figlewicz, is currently on the east coast, near Boston, freshly working as an audiologist and moonlighting at Trader Joe's to pay off her student loans! We are also parents to three wonderful rescue cats – Indie was picked up at a toll stop in Indiana, we adopted Yum Yum from the Northwoods Humane Society, and Tiger Van Gogh is our lovable stray with a busted ear who adopted us.
Any message to the Arlington Heights community?
My 34 years spent as a teacher in Arlington Heights from 1971-2004 were some of the most special of my life. This was all due to the family atmosphere that pervaded the district and the community. We all worked together to make decisions that were best for kids. As we look to the future, I commend all the members of District 25 who are striving to create the very same dynamic community. Keep up the good work!