Return to Headlines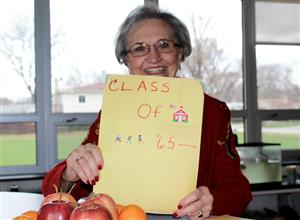 We remember WHEN Ms. Otis joined our district and she remembers a lot more! Ms. Otis was kind enough to give us a few minutes and answer some questions to get us all caught up on her life since retiring. The following is what we found out!
Can you start by telling us the details of your career in District 25?
In early March 1964, Mr. Beacon, Principal of Miner Junior High, interviewed me for an elementary teaching position in District 25, after nearly completing a one-year fourth grade experience in Racine, Wisconsin. I was hired on the spot, as there was a great need for teachers in 1964. My assignment was a fifth grade position under Principal Hetke at Ridge School where I remained until June 1968. At that point, I took an 11 year sabbatical to raise two children with my husband, Duane Peterson, who was a sixth grade LA/SS teacher at South Junior High. Upon his instant death on the second day of school in August 1984, the Superintendent of Schools, Dr. Strong, assured me I would have a full time teaching position to support my children who were 13 and 15 at the time. When I wanted to return to teaching in 1979, teachers were being rifted due to declining enrollment. However, Dick Hanke, a college colleague of mine and Principal at Thomas Junior High, offered me an aide position in the Special Education Department at Thomas as a "foot in the door" for future positions. Little did I know that would be my saving grace as soon after, Dr. Strong assigned to me a 3rdgrade position at Patton School one week after the death of Duane. I remained at Patton for 10 years and retired in 1994, under the 5 + 5 offer from the State of Illinois. In total, I taught 20 years and went out on a real high!
What is your fondest memory of working in D25?
My fondest memory of working in D25 is with the children. I loved teaching creative writing and managed to keep one piece of writing from each of my students I taught in the 20 years. Now I love to share that piece with every student as I learn of his or her presence today. It is amazing realizing the impression I left with some students after many years of being in my classroom.
Finish this sentence: "I remember when…"
I remember when Sharon Takahashi's 3rd grade "Indians" from Greenbrier walked to Patton School to meet my 3rd grade "Pilgrims" for a 1984 Thanksgiving Feast. We shared songs, stories, and popcorn treats. What a real life experience it was for all!
What have you been up to since retiring?
In 1992, I married Jim Otis, and we both took early retirements to travel the world, which we did until his death in 2008. Since then, I have continued to travel and spend time with the many friends I made through the years in D25 as a teacher, parent, and in PTA. To continue my connection with children, I conduct tours and hands-on activities at the Arlington Heights Historical Museum, many of which are students from D25 schools. I also volunteer at the homeless center, preschool at my church, and serve on the Board of Directors at Luther Village.
How's the fam…?
My son, Perry Peterson, is in his 23rd year of teaching at the Barrington Station Middle School campus in physical education along with his wife, Jen, who also teaches there. Their daughter, Kendall, is a freshman at Barrington High School. The big question at this point is whether or not she will be on her father's varsity softball team this spring. Perry has coached the high school team since 1993, with over 700 wins and is in the Illinois Coaching Hall of Fame. My daughter and family continue to live in Maple Grove, MN where Pam is a clinical dietitian in a local rehab center. She continues to strive for healthy hearts in her patients.
Any message to the Arlington Heights community?
In the 51 years that I have lived in Arlington Heights, I continue to experience a sense of family in the schools and the community. My only wish is that it continues for years to come.