Return to Headlines
Community collaboration serves public for 10th straight year
Arlington Heights, IL – Students walked into Faith Lutheran Church in search of school supplies, last Thursday, but left with much more.
On August 11th, a true Arlington Heights community collaboration came together for the tenth straight year to put on their Get Ready for School event to help ease the stress and tension for families as they send their kids back to school.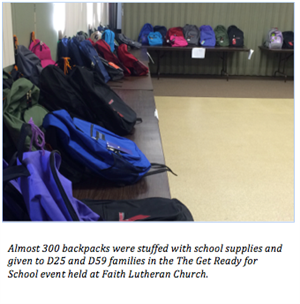 "We try to connect different aspects of our community with people in Arlington Heights," Arlington Heights School District's Assistant to the Superintendent and Get Ready for School coordinator Debbie Williams said. "This way, families become more familiar with the resources this town provides for its residents."
Families from both District 25 and neighboring District 59 visited Faith Lutheran on Arlington Heights Road, picked up a donated backpack filled with school supplies, and then walked through a resource fair with booths set up by organizations from around the Village.
The Arlington Heights Memorial Library, Arlington Heights Park District, Arlington Heights Police and Fire Departments, the Salvation Army, SafeLink, District 214's Community Education program, and District 25's Food Service Department were all present with pamphlets, giveaways and information about their services available to the greater community.
Northwest Community Healthcare was in attendance providing health and dental information, and students were even able to get a free haircut from a local hairdresser.
"We are so proud that this is our tenth year collaborating to serve our community," Williams said. "We've watched this event grow every year as the need in this area has been growing. This hopefully helps students within our community."
The Arlington Heights Salvation Army donated all the backpacks. District 25, District 59, Arlington Cares, the Cook County Bus Company and Faith Lutheran Church also donated funds to provide school supplies for the event.
"It's a passion of ours to provide support to anyone in our community who wants it," Bob Ehlert of the Salvation Army said. "The collaboration amongst all of the community organizations is what makes this event great."
Our District