Return to Headlines
A promise to family on Opening Day
August 25, 2016
South Middle School, Arlington Heights, IL – As teachers and staff walked into South Middle School for Opening Day, an energetic and smiling food service team met them, handing out iced coffees, doughnuts and fruit.
Any remaining anxiety teachers may have felt from the start of a new year was quickly smothered by the feeling of excitement and by the sense of family as Superintendent Lori Bein and the administration team welcomed staff.
"Hi and welcome back!" Dr. Bein said. "Have some doughnuts!"
That wasn't the only groundbreaking material their transparent and passionate leader would share with them that day. Dr. Bein made a promise to the entire staff to visit 173 classrooms in 173 days.
"I want to know us even better than I already do," Bein told her staff of over 850 people. "Everyone in this room has lots to share, and I want to see and experience as much of it as possible."
Dr. Bein stressed that it will take more than just a "pop-in" to create this experience. Bein plans to spend time in each of the 173 classrooms as an observer, participant, speaker, teacher, collaborator, or whatever is needed at the time.
"I care about you all, and it's easy to say that, so I want to show that and live that," Bein said. "I want to walk the walk."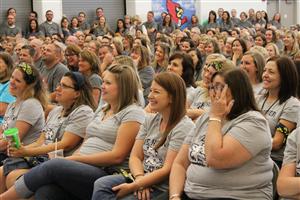 There are 173 days in District 25's school year that students are in attendance, which now means there will be 173 days that Bein will experience the classroom.
Teachers applauded this news, already reaching out on Twitter to campaign for Dr. Bein to visit their individual classrooms.
Turning a Page
Board President David Page kicked off the speeches on Opening Day with genuine gratitude and a message of family.
Page expressed District 25's importance to him and his family and how grateful he is as both a board member and as a parent in the District for the teachers' dedication and passion shown every day.
Page's youngest daughter just graduated from South Middle School this past year, but he loves volunteering his time to the District, still.
New Contract, New Year, Let's Play 18
Kelly Drevline, Arlington Teachers Association President and South Middle School physical education teacher, welcomed teachers back with a heart warming and fun video of students expressing why they are excited to meet a new teacher.
Drevline used golf to draw comparisons to teaching and the ups/downs and excitement/stress of a school year.
Teachers and staff experienced a shortened version of Opening Day but it was impactful as ever. After one hour and three speeches, the message was clear. District 25 is a family that puts student learning and development first.
Bein read her staff some of the children's book Yes Day, about a young boy who gets one day a year where his parents must say yes to his fun and sometimes goofy requests. Bein encouraged everyone to ask for their own Yes Day.
"I want you to have a 'yes day'," Bein said after reading aloud to the group. "Give your students a 'yes day'. Let's all have a 'yes year'."