Return to Headlines
Nearly $2000 raised by a community partnership
September 26, 2016
South Middle School – It was standing room only as parents, students, staff and Arlington Heights community members lined the walls and bleachers to watch rival basketball teams face off and support a cause.
South Middle School hosted the second annual and third ever Brave Challenge last Thursday, an Arlington Heights Police effort to support Special Olympics, Illinois in partnership with District 25.
"This community is amazing," Arlington Heights Police Officer and event leader Pete Hamrick said. "It's awesome to set something like this up and see everyone flood the stands."
The seventh and eighth grade girl's basketball teams for Thomas and South provided the entertainment, with the eighth grade game tipping off first, igniting the crowd. Students from both South and Thomas could be heard chanting and cheering for their team, and that excitement lead to a flurry of donations.
The numbers are not final, but the event raised an estimated two thousand dollars, nearly quadruple the goal of $500. Donations were collected through concession sales, a half-time shooting opportunity, a 50/50 raffle, Torch Run bucket and t-shirt sales and donation boxes located at the entrance and the concession stand.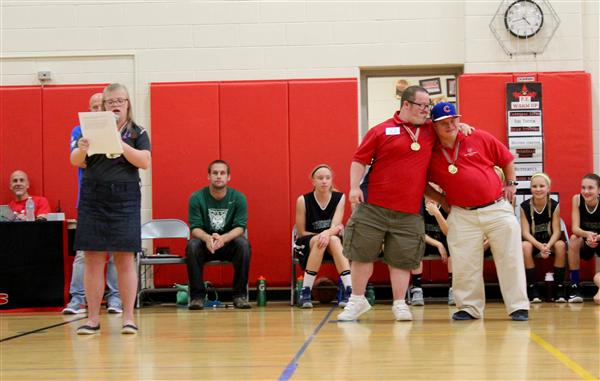 The entertainment didn't start and end with only basketball. In between the eighth and seventh grade games, Special Olympic athlete and Global Ambassador Ela Stoklosa engaged the crowd.
"Special Olympics is a big part of my life and my family's life," Stoklosa said in her speech. "Behind all of my medals (140 total) is a lot of hard work, training and sweat. Special Olympics has made my dream come true. I am an Olympian!"
Stoklosa had support from her friends and fellow athletes, Steven Katz and Matt Kaman, who stood by in front of a giant crowd during the speech.
The public can still donate to the effort by visiting http://tinyurl.com/bravechallenge.