Return to Headlines
It's on to state for South & Thomas in Science Olympiad
Arlington Heights, IL – Science is not only an important subject in District 25, it is an important tradition.
Every year, South and Thomas Middle School students goggle up, study, and prepare to compete in the many Science Olympiad competitions held around the state, with an ultimate goal of being named the national champion.
"It would be really cool to win nationals," Matt Lennon, 8th grader and current Science Olympiad team member at South Middle school said.
Currently, Lennon and his teammates at South are busy several days a week preparing for the state competition at the end of April. The top two teams from each state event advance to compete in the national tournament at Wright State in Ohio.
In order to make it this far, both South and Thomas had to place in the regional event held in February. South took first and Thomas took fourth, both advancing to compete at the University of Illinois in Champaign with a chance to move on to nationals.
"State was fun when we went last year," Lennon, a possible future aerospace or mechanical engineer, said, "but this year, our eyes are set on nationals."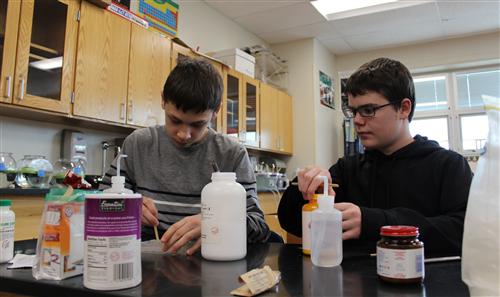 Lennon will participate in a few events at this year's state competition, one with his teammate and friend Aiden Heiber. Lennon and Heiber have been studying for the Rocks and Minerals event by reading as much as they can, and testing the different affect various chemicals have on many powders and minerals so they can tell them apart.
Rocks and Minerals is a study event, but Science Olympiad has many build events as well. Students will be asked to build bridges, build rockets, build weight-bearing towers, and answer questions on species, ecology, anatomy, diseases and our planet. There are over 20 events in all.
"I really like science because it's all about problem solving," Heiber said. "In science we are always looking toward the future and we can reinvent things with our knowledge."
Heiber and Lennon and the entire South and Thomas teams are making their final push, with one month to go until state. Good luck to both teams and all students as they work toward nationals.