Return to Headlines
A Little More Than, 'Just Another Opening Day'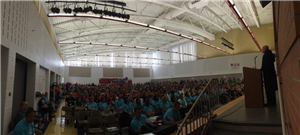 August 24, 2015
South Middle School, Arlington Heights, IL – Today, was Opening Day for Arlington Heights School District 25 staff. This article should end after that sentence, but it doesn't.
This article keeps going because of how innovative, fun, inspirational, informational and different today's opening day presentation was. Just ask Murray Banks, AHSD 25's keynote speaker for opening day, and one who has given over 1,000 keynote opening day speeches to school districts all over the country.
"This is the best one I've seen in 30 plus years in doing this," Mr. Banks said on stage after watching all district administrators give their message to the entire staff of 900 plus.
The staff agreed in many ways. They agreed with their laughter, attentiveness, smiling, hugging, tweeting, participating, note taking, and listening throughout the four and a half hour presentation.
"The speakers were able to personalize each of their messages and showcase who they really are to their staff," Banks said. "The administrators showed that they are indeed real people."
Examples of this were seen throughout the morning. School Board President David Page spoke of his family's dedication to education and how his family is sad to have no more children go through AHSD 25 after this year.
Assistant Superintendent of Student Services, Aimee LeBlanc was able to show her true love for shoes by changing them mid-way through the morning. Assistant Superintendent of Personnel and Planning, Jake Chung showcased his love for the 70's with a video that introduced his staff with the help from the Partridge Family, and a "fake" picture of Mr. Chung and a full head of hair. Assistant Superintendent of Student Learning Dr. Eric Olson dressed up as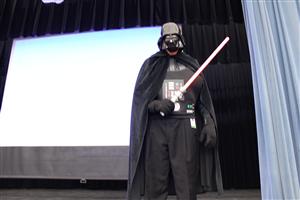 Darth Vader, clearly showing his love for Star Wars, and his respect for the Force.
"What a great experience this was," Dr. Olson said. "Each person brought their own personality to each presentation and it really inspired our staff. Especially Lori [Superintendent, Dr. Lori Bein], who was able to get her genuine and heartfelt message out extremely clear."
Superintendent, Dr. Lori Bein, opened up to the AHSD 25 staff by not only showing her third grade picture for the second year in a row, but by expressing her fears. Dr. Bein has never been a runner, but she is determined to learn to become one and she said that to her staff.
"Just because it's difficult, doesn't mean you can't do it," Superintendent Bein said to her staff. "Continue to be the teacher that you came here to be and don't be afraid to ask, 'how can District 25 help me be confident, balanced and joyful.'"
Dr. Bein used the famous "Lions and Tigers and Bears…Oh My" scene from The Wizard of Oz to highlight challenges that may await AHSD 25 this coming year.
"Construction and new curriculum and negotiations…OH MY!" Dr. Bein said. "But if we look at the positives we provide for our students and we keep confidence, balance and joy with us, we will excel through this year together."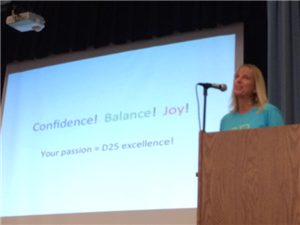 After the presentations were over, and the staff was dismissed, Superintendent Bein was able to reflect on what just happened.
"The energy felt when all 900 plus staff walked into the room this morning was amazingly positive and inspirational," Dr. Bein said. "Today taught me even more about letting go. I can allow others to do what they came here to do."
The presentation was scheduled to go until 11 am. It did not, and no one seemed to mind.
"We went over 40 minutes long and all staff stayed here, in their seats, eager to continue learning," Dr. Bein said. "Genuinely I hope we provided our staff members with encouragement, fun, joy and a reminder to have confidence in their ability and expertise. I hope we were able to provide them with a good day, because they are going to do that for so many people this coming year every day, and that is powerful."
To say AHSD 25's Opening Day was a success, is an understatement. Now, as former Vermont Teacher of the Year, and accomplished speaker Murray Banks says, "it's SHOWTIME!"