Return to Headlines
Keyboard Challenge Met, by AHSD 25
September, 18 2015
Arlington Heights, IL - The golden keyboard was "in the house" at last night's Arlington Heights School District 25 School Board Meeting, as the top summer typers from each elementary school were honored.
The AHSD 25 Tech Facilitators were also honored for spearheading the movement, aimed to progress their student's typing skills.
"Typing is a vital 21st century skill, so we worked as a team to develop a way to motivate students to practice these skills at home," Kaitlin Fajks, Tech Facilitator for Ivy Hill and Greenbrier Elementary said. "As tech facilitators, we often look for ways to help our students improve, typically with technology, and we felt this challenge was a great way to encourage the development of typing confidence."
As school let out last June, students were informed of a Summer Typing Challenge to be posted on each school's website. AHSD 25 used the program "Typing Training," which combined interactive games and level advancement with typing.
All schools saw participation skyrocket, with 72,814 minutes typed throughout the seven elementary schools during the summer. Ivy Hill Elementary typed 21,384 minutes to lead the pack, earning the golden keyboard.
"We are so proud of the dedication our Eagles had to this craft this past summer," Principal Scott Kaese said. "We are excited to have earned the golden keyboard."
Leading the entire district, with 1,502 minutes typed, was Ivy Hill 4th grader Amish Avasarala. He was honored, just like every other top typer in the district, with a certificate, but the golden keyboard was presented to him as well, as he represented Ivy Hill.
"He was so dedicated all summer," Amish's beaming Mother, Mrs. Avasarala said. "He worked really hard and was able to accomplish this."
To keep the competition fair, the results were calculated each week by taking the total number of minutes a school typed and multiplying it by their population percentage within the district. We will see who is honored with the golden keyboard next year, but in the meantime, you can see it proudly displayed it at Ivy Hill Elementary.
Tenured Teachers
The audience at last night's school board meeting, which included all principals and assistant principals in the district held, kept right on clapping once the typing masters ceremony was over; it was time to recognize and celebrate AHSD 25's newly tenured teachers.
One by one, each tenured teacher was introduced and handed flowers by School Board President David Page. After all the teachers were honored, Superintendent Dr. Lori Bein recognized how important the teachers are to the district, and one newly tenured teacher echoed Dr. Bein's comments via social media last night.

The tenured teachers honored last night are listed below:
Kristy Treven – Dryden Elementary
Ellen Hajek – Greenbrier Elementary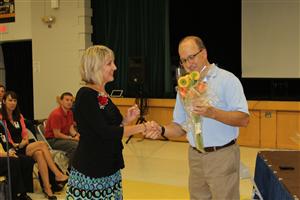 April Kathan – Ivy Hill Elementary
Nancy Brown – Olive-Mary Stitt Elementary
Karen Nordman – Olive-Mary Stitt Elementary
Lauren Miller – Patton Elementary
Jennifer Carney – Westgate Elementary
Corinne Duffy – Westgate Elementary
Rose Middleton – South Middle School
Jennifer Smith – South Middle School
Stephanie Walker – South Middle School
Karen Wong – South Middle School
Todd Slowinski – Thomas Middle School
Jennifer Tatara – Thomas Middle School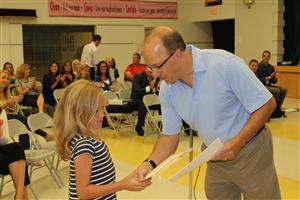 School Board Members, Honored
AHSD 25 Board President, David Page, went through the Master Board Member Program to earn Master Status from the Illinois Association of School Boards. Mr. Page's fellow board member, Brian Cerniglia achieved Member Status through the School Board LeaderShop Academy.