Return to Headlines
VIDEO: Triple Threat, Tim Green Visits South & Thomas
September 25, 2015
Arlington Heights, IL – There was a buzz last Friday morning at South Middle School, but it wasn't the usual, "yippie, it's Friday" buzz.
The author of Arlington Heights School District 25's summer reading book Baseball Great, Tim Green was in the house, and he was here with a purpose.
"I worked so hard as an athlete and I worked that same way as a student," Green said on stage, with hundreds of eyes locked to his every movement. "I figured, if I'm here [at school], I am going to be the best I can be at every subject."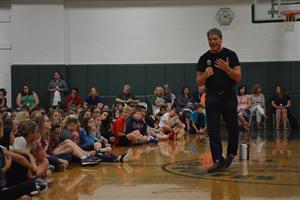 Green played professional football for eight years for the Atlanta Falcons defense. He is now a criminal defense attorney, and an author writing for middle school students. Green has spoken over 1,000 times in schools across the country about having dedication, hard work, and tenacity inside and outside of the classroom.
"I sat front and center for every class I took," Green said. "I asked question, after question, and if anyone ever spoke to me in class, I would turn and say, 'don't talk to me when the teacher is talking!'"
Green's emphatic way of presenting, speaks to his skills as a writer. The descriptive way he told his story to the middle school students at South and Thomas translates through his athletic themed books, aimed at capturing the middle school audience.
"It was awesome having a writer come and talk to us," eighth grade Thomas student, Mary Renner said. "It was interesting to hear how he really struggled and overcame a lot. He loves reading and reading is so important. He told us that technology is taking over but we should all still love to read, and I liked that."
Mary and her classmate, Ryan Gledhill were very excited that Green was coming to their school, so they volunteered to interview him one-on-one. Their interview lasted 30 minutes and consisted of twelve questions, with topics ranging from steroids in sports to what it is like to defend a guilty client as an attorney.
"I knew he was a writer and that he played in the NFL, but when I found out he was in law, I was even more interested," Renner said. "He said he knows when something is right and something is wrong."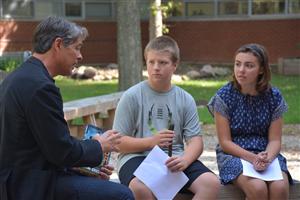 Gledhill took away a different message from the personal interview with Green.
"He [Tim Green] waited five years to get his book done, and was rejected," Gledhill recalled. "He was able to pick back up and write it again. I'm now more inspired to try new things and believe that I can actually do them."
Green's impact will be felt in the hallways and classrooms of South and Thomas all year long.
Video by Tim Higgins