Return to Headlines
VIDEO: Harvest Dinner at Thomas Keeps on Growing
October 1, 2015
Arlington Heights, IL – As the sun began to set on the cool evening of September 29th, Thomas Middle School's Garden Club welcomed the crisp fall air and community members with open arms and fall favorites.
Tuesday evening was the Thomas Harvest Dinner, hosted by 40 plus members of the Thomas Garden Club, and seventh grade English and Language Arts teacher, Todd Slowinski.
"We have chili made from squash grown right here at Thomas's garden," Slowinski said as he overlooked his club's masterpiece. "We have roasted veggies from our garden, homemade bread and applesauce and giant breakfast burritos with kale from our garden."
Slowinski started the garden club five years ago, after writing up and being awarded a PTA grant to plant the Thomas Garden. Every year the club has grown in numbers, and this year the members need to split their cooking days because it gets too crowded in the kitchen.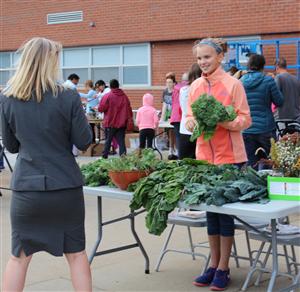 "It is important that the students understand where their food comes from," Slowinski said. "We grow real, whole foods here and they appreciate it. They see the process through from start to finish and they better understand that whole foods taste good."
The club has met three days a week this year. Tuesdays were spent picking and managing the garden and on Wednesdays and Thursdays the members cooked in preparation for the Harvest Dinner.
Club members worked the tables, taking an entry fee of two dollars per person, five dollars for a family, in exchange for unlimited samples of squash chili, roasted potatoes, hot cider, roasted vegetables and of course the breakfast burrito.
"We grow all of these vegetables and we sell them and that's so fun," Seventh Grader, Clara Menninga said while selling kale to approaching community members. "I love to cook and it's satisfying to watch others eat what we grew and made."
To complete the atmosphere, Copper Oven Pizza donated their pizza oven, staff and supplies; there was freshly made pizza for all to enjoy.
All the proceeds will go to the Thomas Garden Club for supplies and upkeep of their garden throughout the spring and summer.
Video by Tim Higgins & Jake Smith (Thomas 8th Grade Student)