Return to Headlines
The Day Vamiclaw Came To Life in Olive's Art Class
November 19, 2015
Arlington Heights, IL – On a cloudy afternoon in Mr. DeMarco's art class at Olive-Mary Stitt Elementary, a scary character named Vamiclaw was born.
Fred DeMarco's art class was lucky enough to have illustrator and children's book author, Ethan Long visit on Tuesday, November 16th to inspire the creation of Vamiclaw and to show first hand, that anyone can be an author and illustrator.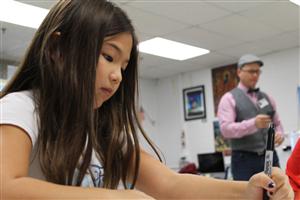 "It's fun," Long said about speaking to students. "I enjoy making them laugh while sharing my message about the process of sharing and communicating ideas."
Vamiclaw is a bunny, with bat wings, horns, claws, and a bumblebee's body. He was created through an activity that Long lead where each student in the class would draw a different body part on pieces of paper that were being passed from student to student every fifteen seconds, adding on to the previous student's drawing.
The idea was to eliminate thinking and preparation and to enhance the spontaneous and creative attributes of the students.
"This activity is just an idea I had," Long said to the students while they were busy drawing ears. "It may not be a good one, but not all ideas have to be. Just try them out and give them a chance."
After all characters were finished, Long selected one at random and gathered the students around to watch him draw several variations of the character; but it still needed a name.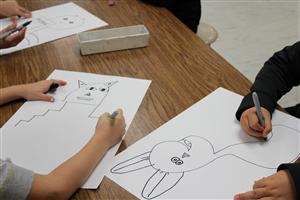 "Slackula," one student said.
"Average man!" another yelled.
"Vamiclaw," another said, calmly, as if he knew it was the right answer.
Vamiclaw it was, and Long commenced with the lesson. Students learned the drastic differences one line can make in portraying the emotion of a character. Long preached the importance of paying attention to pupil size, eye brow direction and girth, mouth angle and size, and body language.
Long signed each drawing he finished and gave them to the student's fifth grade teacher, Mrs. Wilhelm, to hang in their classroom.
Before Long ventured into Mr. DeMarco's class, he spoke to the entire kindergarten, first and second grade student body in the Olive commons. During Long's presentation, he and the students collaborated through the entire process of creating a character that could be used in a book.
"Don't take a bunch of time on your rough draft," Long said to the Olive students. "Put your idea down and fine tune it as you go about the creative process."
Students shouted out ideas until the Chihuahua Cuckoo was born. Long was able to draw the dog, with student input, on the fly, on a projected screen for the entire commons to see.
After Long's presentation, little hands shot up all over a crowded Olive-Mary Stitt Elementary commons, anxious to get a word in with the illustrator and children's book author.
"How much time a day do you spend writing?" asked an eager student.
"How much do you like it and how many stories will you write?" another questioned.
"I will write until my hand falls off," Long responded, "and even then, I will write with my feet, and then with my mouth, and then with my eyes. I love it."
Long is in Arlington Heights this week, promoting his new children's book, Fright Club and is stopping by every elementary school in District 25.
Long is set to visit all other District 25 schools this week thanks to the Arlington Heights Memorial Library who contacted Long and arranged the visits