Return to Headlines
December 18th, 2015
Arlington Heights, IL – Before I begin, I would like to introduce myself. My name is Adam Harris, and I am the Communications Coordinator for Arlington Heights School District 25.
I began in District 25 in July, after working for a sports radio station here in Chicago since 2008.
Over the past five months, I have written many stories, highlighting the amazing things our students and teachers do, day in and day out, and I hope you have enjoyed reading them as much as I have enjoyed writing them. Today, however, I would like to take the reporter hat off, and write something different.
This time of year is a magical one in education and I'm not sure a lot of people understand how magical it actually is. I had become disconnected with how exciting holiday time is within a school district after not experiencing it since graduating eighth grade from a neighboring district back in 2001.
This year, I was up to my head in holiday celebration, and it brought me back to a younger, exciting time. I saw holiday sweaters, fake antlers, holiday treats, holiday songs, and yes, more holiday sweaters. Over the past month, the District 25 staff and parents dedicated time, money, sleep, family time and their own embarrassment to dress up, lead activities, start movements and generate spirit, all to create smiles on their students' faces.
It was both humbling and incredible to witness.
It all culminated with a final week of celebrations before winter break began. At Thomas Middle School, a special ceremony was held to announce a well-deserved honor to P.E. Teacher, Carol Golemo. Golemo was named one of twelve Arlington Heights Hearts of Gold recipients and the students were so inspired to see a teacher they look up to, be honored in such a way.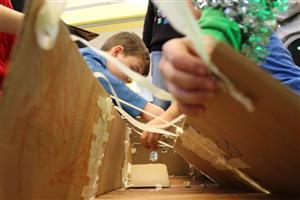 All week at South, students and staff collected food items, both canned and boxed, for their annual Pack the Pantry movement. Early Friday morning, everyone pitched in, to help load the truck for it to be delivered.
Westgate's Winter Wonderfest began with a sing along designed for the entire school to participate. DJ Music Man (Mr. Berger) turned his hat around and put on a goofy sweater to lead the singing as teachers, dressed in silly green pants and celebratory sweaters, swayed and danced.
The gym at Olive played host to a day long winter story time, as special guests from around the district stopped by to read festive books to the Olive Owls. A computer generated fire and twinkling lights helped set the mood.
It's a tradition at Windsor to do a big event the day before winter break lets out, and this year the Wildcats adopted the Cardboard Challenge. Students made it into a holiday themed challenge by constructing Santa's workshops, Santa's sleigh, candy cane lane, and, of course, a ski ball game.
Ivy Hill's first graders performed a holiday show for parents and they concluded their week with an all school assembly. Every grade performed a song and then everyone, together, sang the Ivy Hill theme song, Light the Candles all Around the World, signing the words as they sang.
It was a full house at Patton as the fifth grade choir, consisting of 45 Panthers, performed, as little professionals, for parents. If you closed your eyes, one may have never guessed they were not at a holiday concert in the city. These young Panthers performed many winter themed songs to set the holiday mood and spirit.
The Greenbrier Gators celebrated the holidays, all the way up to the last bell at 3:30 in the afternoon on Friday. Parents, teachers, and staff lined the walls in the commons for the choirs' performances of holiday tunes, which lead to the annual Greenbrier Holiday, Sing Along. The community bonded as they sang together with their children.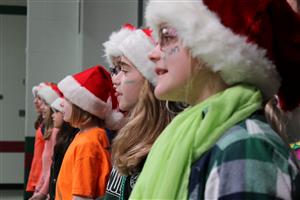 The holiday season can be both exciting and stressful for many families, but over the past month, I experienced an incredible holiday spirit and thoughtful attitude through the world of education, specifically, here in Arlington Heights School District 25. It was a beautiful reminder of the efforts and dedication teachers have for their students, and here in District 25, that rings especially true.
With help from the students and staff in District 25, I am full of holiday spirit, and I will bring that home to my family and friends over the next two weeks.
Happy Holidays.