Return to Headlines
Coding their way through Egypt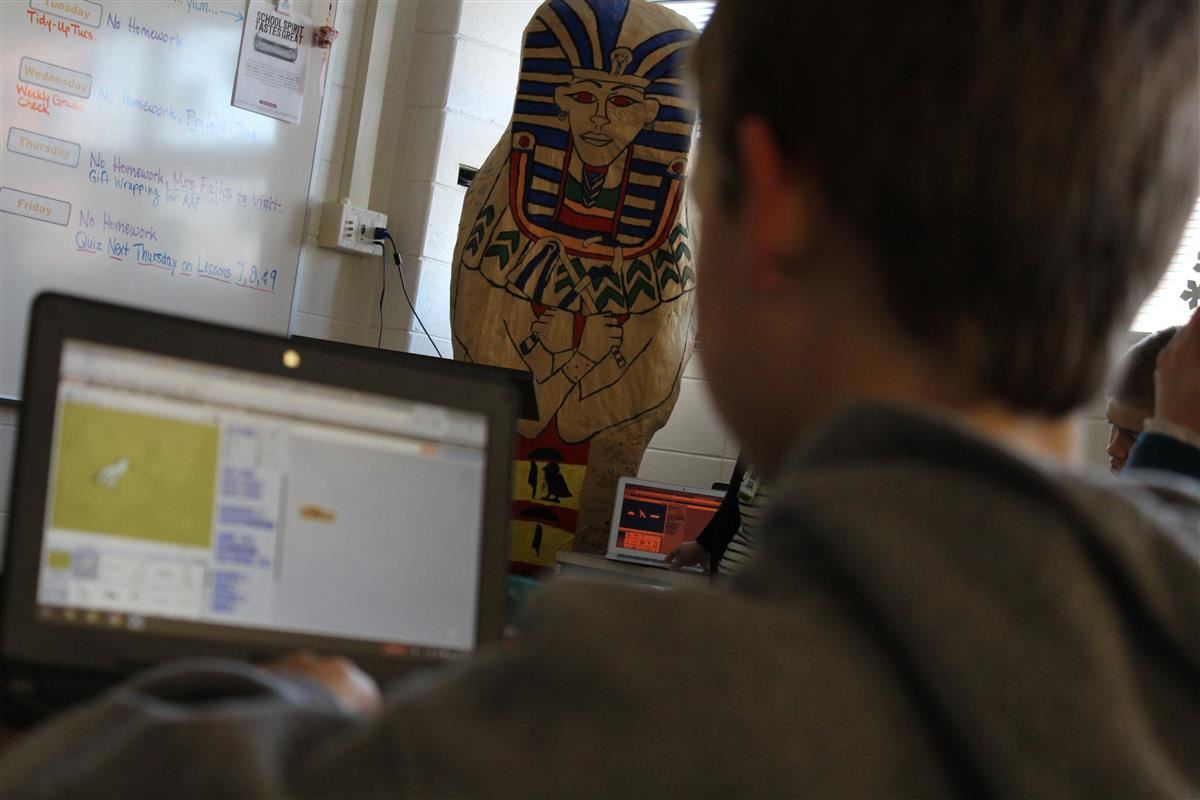 Arlington Heights, IL – The implementation of coding into the classroom may be more of a recent trend in education, but one class at Thomas Middle School discovered that a group in ancient history was, indeed, the trendsetter.
The sixth graders in Katie Biewer's social studies class are in the middle of their unit on Egypt, and are learning the ancient language of hieroglyphics through coding.
"This is exciting because it gives our students even more of a reason to take ownership of what they are learning," Biewer said.
That is why Biewer invited Thomas's Technology Facilitator, Kaitlin Fajks into her classroom. Biewer and Fajks worked to merge the ancient world of Egypt with the modern world of technology, and Fajks did that with a lesson on coding.
"Coding is transforming actions into symbols," Fajks told the class.
And that's precisely what Fajks and Biewer instructed the class to do. Students were tasked with using the symbols of hieroglyphics to spell their name in a coding program called Scratch. Students found the symbols that represented the letters of their name and programmed them to appear, spin, slide, blend, etc, onto the screen in different colors, shapes and sizes.
This exercise generated interest, and hooked their students.
"It's just really fun to code," sixth grader Matt Clayton said. "Combining coding with what we are learning definitely helps me learn more about hieroglyphics."
Fajks is asked by many teachers at Thomas to push into their classrooms and creatively find a way to work technology and coding into lessons. Teachers see it as a great way to engage their students in their lessons, and Fajks sees coding as a great way to teach students essential problem solving and adaptive skills.
"There's a visual component to problem solving," Fajks said. "Using symbols to code is an easier way to learn to code, instead of throwing them into the language of coding. That's why this fusion lesson with hieroglyphics worked so well."
Biewer agreed.
"Debugging is a big part of coding," Biewer said. "Proofreading is debugging the written word. It's what they do everyday."