Return to Headlines
September 12, 2016
Arlington Heights, IL – What is Roz, and what does Roz have to do with Patton? Due to clues posted throughout Patton Elementary School last week that was the question every Panther student had as they filled the commons Friday afternoon expecting an answer.
The students got one, as Roz the robot appeared onstage to a loud cheer.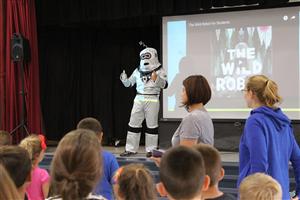 Lead by Patton's Library Media Center Director Idelle Melamed and their Advanced Learning Facilitator Kristin Maksymec, the entire Patton community will participate in a One Book, One School effort.
All Patton parents, families, students and staff will read the book The Wild Robot, starring a robot named Roz, throughout the month of September. Everyone in the community will read this book simultaneously, promoting literacy and encouraging family time as the school year kicks off.
"I'm so excited for this to launch," Melamed said after a few years of planning. "This project is so perfect for our community because everyone is already very engaged, this will only add to that feeling."
The school purchased just over 450 books for the entire community, one per family and staff member as the requirement will be 15 minutes of reading a night. Melamed and Maksymec put together a reading schedule and curriculum for all to follow to stay on course, which will foster discussion and creation.
"Students will learn about habitat and animal survival, along with engineering and design skills." Melamed said.
According to Melamed, there will be projects and discussions held both in school and out of school based on the discussion questions and assignments provided to the students and families.
Adding to the excitement, community members such as Mayor Tom Hayes, Superintendent Dr. Lori Bein, Thomas Middle School Principal Brian Kaye and more will record themselves reading a chapter as guest readers for the community.
The community is expected to finish the book on October 11th, and shortly after that, the Patton Panthers will meet the author, Peter Brown, through a Skype session during an all school assembly.
You can follow the progress, discussion and projects related to this One Book, One School effort on Twitter by searching the hash tag #1book1patton. For more information on the #1book1patton initiative, visit this site: http://pattonlmc.weebly.com/the-wild-robot.html.