Return to Headlines
District 25 engages AH community in daylong read-a-thon
March 17, 2016
Arlington Heights, IL –Greenbrier's fifth graders were shocked when teacher, Erica Palmieri announced the forty-five minute mark until spring break.
"What? No way!" shouted a few students who were busy saying goodbye to their kindergarten buddies as the Buddy Classroom reading activity was over.
The end of the day had snuck up on these fifth graders who, like the rest of Greenbrier, had just finished the Greenbrier read-a-thon fundraiser. This full day event featured seven different reading activities, with many special guests and hundreds of books being read.
"This day is about promoting reading and how important it is," Palmieri said. "It's eye opening for the kids to hear and see the importance of reading from influences other than us [their teachers]."
Palmieri and colleague, fourth grade teacher Regina Fortman, planned this day down to the minute, including booking nine mystery guest readers and Buffalo Grove High School athletes, to come in and read to the students.
"This day has gone so well,"Fortman said as she walked from activity to activity, making sure everyone was having fun reading and sharing.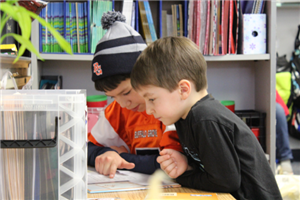 According to Fortman, last year's read-a-thon was a half day event, but the participation and enthusiasm caused it to grow to a full day, all school event featuring seven different reading activities.
After Superintendent Dr. Lori Bein opened the day by reading a favorite book of her choice, the students all went back to their respective grades to find a mystery guest reader waiting to read and share a favorite book of theirs as well.
The mystery guest readers featured personnel from District 25's Department of Student Learning, Arlington Heights School Resource Officer Rick Veenstra, and Arlington Heights Fire Department Public Education Officer Lieutenant Andrew Larson.
"It was cool that the people from the district office came to read to us," fifth grade Gator Michael Cervantes said. "Today we got to see that people have different mindsets and interests about reading."
Cervantes answered a few questions about Greenbrier's read-a-thon in between reading with his kindergarten buddy Niko Harisiadis during the Buddy Classroom activity.
"I like that I get to go into other classrooms and meet new friends," Harisiadis said as he pulled another book he packed in the book bags donated by the local Barnes and Noble.
Perhaps the most influential and exciting hours of the day, however, were spent with the Buffalo Grove athletes, who visited with every student of Greenbrier for two hours before lunch, reading and discussing book after book with the Gator students.
"The energy of the kids is great," BG basketball player Joe Faraci said. "It's fun to get in touch with the students and realize how much they look up to us. It makes me want to be a great role model for our community."
Faraci said Buffalo Grove coaches contacted the athletes about an opportunity to come and read to the Greenbrier students. The athletes jumped at the opportunity to volunteer.
Other activities of Greenbrier's read-a-thon included iPad eReading in the gym where the lights were turned off and the kids were reading in a darkened area, Bookmark Creation in the art room, Classroom Flip Flop where students travel to different classrooms for a new reading environment, and Reading Time where students could relax and just read at their leisure with no requirements or expectations.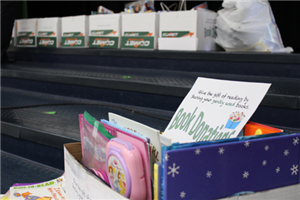 "We are hoping to shift the conversation about reading from a 'need to read' to a 'want to read' mentality," Palmieri said. "So often reading is work, but today reading is cool."
Along with promoting reading throughout Greenbrier and the community, Greenbrier's read-a-thon put together a book drive for the organization Open Books. The students were allowed to write notes on a sticker and stick those notes on the inside cover of the books they donated.
"I hope when you read this you go along with Boots and Dora," one note read.
The reach of Greenbrier's enthusiasm for reading has inspired the Arlington Heights community and future readers who enter Open Books.