Return to Headlines
Greenbrier Gators working about town
April 21, 2016
Arlington Heights, IL – Fifty Greenbrier Gators stormed downtown Arlington Heights Thursday, April 14, looking for work, and they found it.
Twenty-two shops and businesses just south of the train tracks at Arlington Heights road opened their doors and welcomed the extra help and enthusiasm brought by the fifth grade students for Greenbrier's World of Work Day.
"It's going to be fun to work in a place I've never worked or even been in," fifth grade student at Greenbrier, Mitch Verdico said as he waited to enter Beat Street Toys on Evergreen Avenue. "I'm good at talking with people and finding out if they are friendly or not, so I'm excited to get in there and learn how to sell toys."
World of Work day is a tradition among a few of District 25's schools. It is a way for the community and businesses of Arlington Heights to add value and partner with School District 25.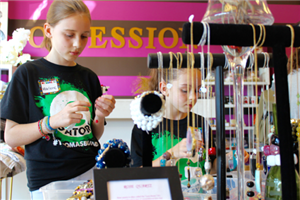 "Many of our chamber member businesses participated in this event," Executive Director of the Arlington Heights Chamber of Commerce Jon Rider said. "The connections they make with these students will have a lasting impact on their future career choices or becoming an entrepreneur. There is also a great benefit that comes with connecting the school district and the business owners. This helps provide a strong tax base for their funding and for the business owner to realize the impact a strong school district has on their business as well."
The students all met at Arlington Heights Village Hall at 9:30 am with family volunteers and chaperones. After a few group photos, they were off to their designated store-front, ready to roll up their sleeves and get to work.
In preparation for this day, students answered a questionnaire that helped the organizers determine the student's interests and find the best fit for their morning of work. Businesses ranging from restaurants such as Peggy Kinnanes and Fausto's Bakery, where students learned how to make their own pizza dough and set up the lunch menu, to boutique shops and jewelry stores such as Upstairs Boutique, Obsession Boutique and Flaherty Jewelers hosted the fifth graders.
"I think it's great for kids to get a chance to see what it's like to have a job," PTA volunteer and World of Work organizer, Chuck Mason said. "It's also awesome that the kids also get a chance to see what's around and available to them in their own town."
At Flaherty Jewelers, students watched as a professional jeweler demonstrated how to set a stone and polish rings. One student walked away with a silver band ring that the jeweler made while they were there.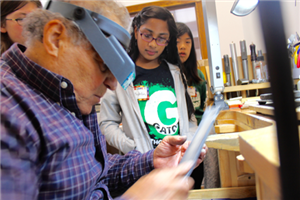 "This seems like a fun place to work," Verdico said as he walked around Beat Street Toys, getting used to the merchandise he would need to sell soon. "It's fun to serve people."