Return to Headlines
Six continents on display at Greenbrier
May 16, 2016
Arlington Heights, IL – Matthew Neswold's family is from Norway, and he is very proud of his heritage.
"When I think of Norway," Matthew said, "I think of the Northern Lights. I really want to go there one day."
Matthew is a third grader at Greenbrier Elementary School where he and many other students and families put their culture on display a few weeks back for the Greenbrier Multicultural Fair.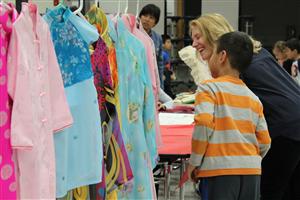 This fair was conceptualized by the Greenbrier Cultural Awareness Committee and lead by Greenbrier's English Language Learners teacher Cheryl Van Duyse.
"The real thrill of this is that the kids get to learn about different cultures directly from their friends who live in that culture everyday at home," Van Duyse said. "I believe this will bring our already really close community of Greenbrier even closer."
Students and families set up displays, complete with clothing examples, pictures, traditions, and background of their culture from all over the world. Families and students from Hungary, Japan, Poland, Israel, Greece, Russia, Pakistan, Venezuela and Greece were represented, speaking to the culturally rich community of Greenbrier.
"Our community is so diverse," Van Duyse said. "We have students representing every continent except Antarctica. Thirty languages are in this one room right now. Greenbrier has a wealth of culture to share."
And share they did, as parents and students were dressed up in their culture's attire, proudly telling family stories to give Greenbrier students an idea of their culture's background.
Students from each classroom in the school were called down to the commons and given fifteen minutes to venture around the room and interact with their fellow classmates, learning something new about friends and their community.
"This makes me happy," Matthew Neswold said, who's father is full Norweigan and both his grandparents were born in Norway. "I'm happy to see lots of my friends and people interested in my background."
This was an event full of volunteers, as Greenbrier had no issue finding passionate and caring families to participate.