Posted by Donna Bingaman on 11/8/2019 9:45:00 AM
November 8, 2019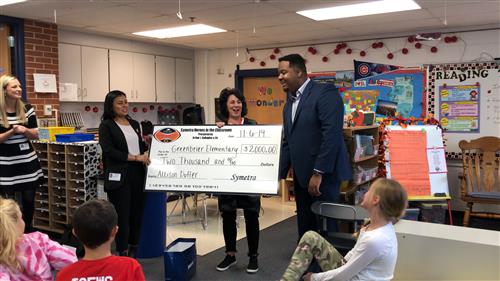 Congratulations!
Congratulations to Mrs. Allison Duffer on being presented a Chicago Bears and Symetra Heroes in the Classroom Award. Representatives for the Chicago Bears and Gallagher present the award to Allison on Wednesday. She will attend and be recognized at the Bear's Game this Sunday. Thank you to the Kranz family for nominating her. Click here to read more about the program.
Cold Weather
As our weather starts to get cold and snowy, please make sure to send your child with the appropriate outdoor clothing, as we will be taking the children outside for recess unless the temperature with wind chill is below zero. Students must have snow pants and boots to leave the blacktop once there is snow on the ground.
Report Cards
Today is the end of the 1st trimester. EC IEP goal progress updates will go home in backpacks on Thursday, November 14th. K-5 Report cards will be emailed home on Friday, November 15th. Click here to learn more about our K-5 standards-based report card.
5Essentials Parent Survey
Information from our Nurses
This is the time of year that we start to see cases of lice in our schools. Please click the link below to learn more about lice and treating it. Lice Letter
Please check out the e-flyers in the above link to learn about additional programs that serve our students. There are wonderful activities and services available throughout Arlington Heights and neighboring communities.
Upcoming Events
November 8 - PTA Gator Bash, 6:30 - 8:15 p.m.
November 12 - PTA Meeting, 7:15 p.m.
Noemember 14 - PTA Thrown Elements, 6:30-8:30 (last seating at 8:00 p.m.)
November 15 - K-5 Report Cards Issued