Posted by Donna Bingaman on 12/6/2019 1:45:00 PM
December 8, 2019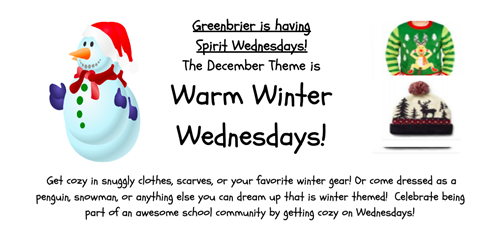 Absences
If your child will be absent from school, we prefer you report your child's absence online by clicking this link for K-5, and this link for EC.
If you need to call, please dial (847) 398-4272 for K-5, and (847) 398-4211 for EC.
Please do not only email your child's teacher. If the teacher is out that day, the office will not receive the message.
To minimize disruptions in the classroom, if your child will be leaving school early please do your best to let us know the day before so we may have your child ready to go when you arrive.
Lost and Found
Over the next week, we will have the lost and found items out in the lobby. Please stop by and see if you are missing any items.
ABC/25 Get Burbed Challenge
Do you love to draw and flex those creative muscles? Enter the t-shirt and poster design contest for the 9th annual ABC/25 Get Burbed Challenge! Any District 25 student can participate! The winning design will be featured on the promo posters and race day t-shirt! Click here for the official rules and entry form. All entries are due by December 18, 2019. We can't wait to see your creative designs! Follow us on Facebook and Twitter for the most recent race updates.
5Essentials Parent Survey
Please check out the e-flyers in the above link to learn about additional programs that serve our students. There are wonderful activities and services available throughout Arlington Heights and neighboring communities.
Upcoming Events
December 10 - PTA Healthy Kids Gym Night, Grades 3-5, 6:30 p.m.
December 12 - 5th Grade Band Night, 7:00 p.m.
December 20 - Holiday Sing-a-Long, 2:45 p.m.
December 23-January 3 - Winter Break