About Us
Providing a superior education for a lifetime of learning.
Our seven elementary schools, two middle schools and administration building house over 800 staff members, all to support 5,496 students. All of our district buildings are located within the historic and beautiful Arlington Heights boundaries. We are proud to serve nearly 76,000 Arlington Heights residents.
Awards & Honors
District 25 is proud of its students and teachers who dedicate so much time and effort to representing District 25 and Arlington Heights in the highest ways:
Global Teacher Prize finalist.
National Blue Ribbon of Excellence: Westgate, Windsor, Greenbrier Elementary Schools & Thomas Middle School
Business Office recognized for excellence in financial reporting by Government Finance Officers Association and Association of Business Officials.
Thomas Middle School - best PARCC scores in the area among middle schools in 2015.
District performed very well on 2015 PARCC tests - View Report card Here
South Middle School Science Olympiad Team eighth in the nation in 2005.
History
Educational roots date back to 1849 here in Arlington Heights when the first primitive school building was erected on the northwest corner of Miner Street and Prairie Street [now Evergreen Street]. The district grew in numbers alongside the prideful town of Arlington Heights, and in 1902 the district changed its number from District 10 to District 25. The district continued to add schools as the population demanded them. The town's peak enrollment years were from the late 1950's into the early 1970's. During this time, the District built 14 schools.
The population declined through the 70's and the District needed to close eight schools. In the early 90's, District 25 saw a consistent increase in enrollment, and with that came either rededication, renovation or expansion of all nine of their schools. The district has seen a consistent increase in enrollment ever since and is currently looking at options to accommodate the expected growth for years to come.
Social Media
District 25 is very excited to connect with parents and the community through Twitter and Facebook. Ask your teacher or principal if they have a Twitter account so you can easily follow District 25 on the move and stay as up to date as possible with your school's happenings and educational curriculum. Follow the District office on Twitter and Facebook as well. Please contact Communications Coordinator Adam Harris if you have any questions regarding the social media connections with District 25.
District 25's social media page.
Partnerships
District 25 is very proud of its relationship with many Arlington Heights organizations. The District's collaboration with the Arlington Heights Park District, Arlington Heights Memorial Library, Arlington Heights Police Department, Arlington Heights Fire Department, Arlington Heights Village Hall, and the town's various alternative schooling options generates an amazing community feel within Arlington Heights.
WIRED - Vision 20/20
Vision 2020, which was adopted by the Board of Education in 2006, and the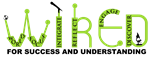 framework serve to shape the direction of our efforts. Daily experiences for all of our students include: World focus, Integrated learning, Reflection, Engaged learning, and Discovery. The Department of Student Learning has helped bring dynamic and vibrant instructional strategies and tools to each classroom so that students will have every opportunity to expand their horizons, become global citizens, incorporate technological literacies in their daily activities, and embrace the practice of reflection and inquiry as they develop their critical thinking capacities, as well as their creativity.