Return to Headlines
Zipping around Dryden with STEAM on the brain
September 28, 2016
Dryden Elementary, IL – A DJ, an engineer, a musician, a chemist, two pharmacists, a veterinarian, an architect, and one technology director walked into Dryden on Friday, September 23 ready to spread a message.
STEAM jobs are fun, interesting and attainable.
Dryden Elementary School's first ever STEAM (Science, Technology, Engineering, Arts, Mathematics) Career Day was a big hit as the first and second grade Dolphins who participated learned first hand about how science, technology, engineering, arts and mathematics are applied in the work force.
"The need for people who can critically problem solve comes in all shapes and sizes," mechanical engineer and STEAM Career Day presenter David Zimmerman said. "I'm hoping to teach or inspire one student today to follow their problem solving instincts throughout their life."
The career day consisted of groups of about 10 students rotating through 15-minute snapshots of many different STEAM careers. Zimmerman's presentation opened the student's eyes to the world of mechanical engineering, showing a video about how Amazon uses machinery designed by engineers to sort all packages.
Zimmerman closed his presentation with a hands-on example of engineering inspired from his days working on the Goliath roller coaster that opened at Six Flags Great America in 2014.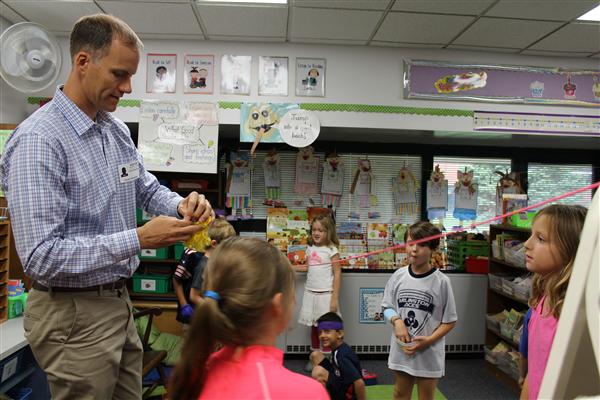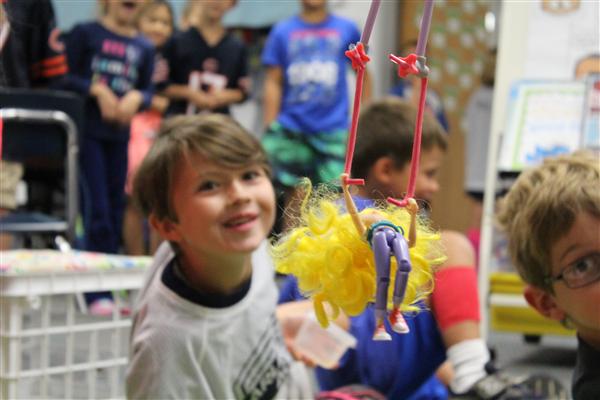 Zimmerman set up a zip line experiment with a doll on rollers and a string. He attached one end of the string to the wall, while holding the other side. The goal was to show the students how raising and/or lowering the string effects how fast the doll would roll down the string.
"I want you guys to understand how math and problem solving can impact different things," Zimmerman said to his junior engineers.
Students had many other hands-on experiences as they rotated through the several different careers represented. They built structures with blocks, created music and song from just a few words, witnessed how technology impacts their own classroom on a daily basis, and they were even able to spin records using a live DJ soundboard and record scratcher.
Advanced Learning Facilitator for Dryden Laurie Wasik organized the entire event. She said she has received some really positive feedback from the volunteers who hope to come back next year and present again.
Judging by the smiles and genuine interest shown by the Dryden students, it's hard to believe that it won't continue.