D25 Stories & Podcasts
Page Navigation
Return to Headlines
Three's not a crowd in the Horne family
Arlington Heights, IL - Pride is what Gina and Pat Horne felt as they watched their soon to be graduating son, Nate, accept the District 25 PTA Scholarship at the Arlington Heights Council of PTAs Scholarship Recipient Breakfast on Tuesday, May 16.
They felt lots of pride, but they also felt relief.
"It's somewhat a joke in our family," Pat Horne, father, said.
The joke is that Nate was the third of three children in the Horne family to be awarded this scholarship, and according to Nate, he received lighthearted ribbing from his siblings leading up to the good news.
"I definitely felt some pressure," Nate said. "They [my siblings] would have never let me live it down."
Nate was one of ten recipients this year of the District 25 PTA Scholarship, which was open to any student who spent three or more years in a District 25 school, holding a minimum 3.0 GPA and who plans on attending a post-secondary school.
Recipients were asked to invite one District 25 teacher that had an impact on their lives and deliver a speech highlighting why that teacher was special to their journey. The speeches were moving, emotional and nostalgic, as the students, all with different goals, interests, and aspirations took the podium, praising their invited guest and reflecting on where they are now thanks to the education they received in Arlington Heights School District 25.
Each of the ten recipients were awarded a $1000 scholarship to put toward their college careers which ranged from east to west and north to south. One student plans to attend M.I.T. to become a software engineer and another is heading to USC to study international business and become a United States diplomat and entrepreneur.
Nate Horne is planning on attending Belmont University to study music business and entertainment to eventually become a songwriter and performer. This is a different path than either of his siblings took, but his mom says that's par for the course in the Horne family as Nate is the one with the outgoing personality.
"I'm proud to reflect back and see that they [my children] all won this scholarship their own way," Gina Horne said. "They did it doing their own thing and following their own paths."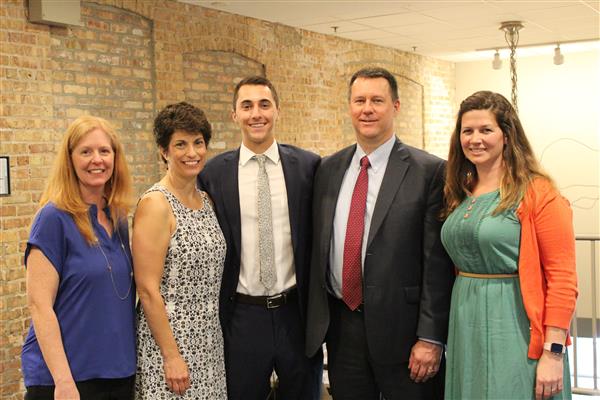 Background about the District 25 PTA Scholarship
The AHC of PTAs has awarded approximately $450,000 in scholarships since it began in 1973. The money awarded comes from the efforts of PTA and the entire Arlington Heights community, including pledges, memorial donations and the purchase of recognition certificates by the local PTA units in Arlington Heights School District 25. For the sixth year the PTA collaborated with the ABC/25 Foundation to co-present the Just Move It! Challenge in 2016. The AHC of PTAs will use their share of the net proceeds from the event toward funding the PTA Scholarship Fund.