Return to Headlines
Brave Challenge a Success, In More Ways Than One
September 21, 2015
Arlington Heights, IL –A brave spirit was felt all through South Middle School Friday evening in different ways, to support something pioneered in Chicago 47 years ago.
Partnering with Special Olympics, Illinois, the Brave Challenge united the Arlington Heights Police Department, Arlington Heights School District 25 and Community Unit School District 365 to showcase basketball and a message to all.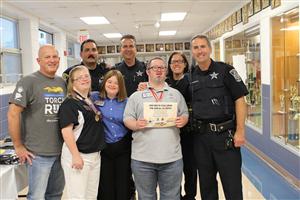 "Let me win, but if I can't win, let me be brave in the attempt!" Special Olympics, Global Messenger, Katelyn Grunewald said, echoing the Special Olympics slogan to close out her speech in front of the crowd at South's gym.
Kateyln is a four time gold medalist, Special Olympic athlete, who was very excited to have a platform to share her story.
"In Illinois, there are more than twenty-one thousand athletes competing in 19 different sports," Kateyln said. "My current passion is power lifting. I may be small, but I am strong!"
Kateyln's audience, featured families of the two communities, staff from each district and over 100 middle school students and athletes who energetically took in the night.
The event itself was an eight team girls basketball challenge, featuring the seventh and eighth grade teams from South and Thomas Middle Schools of Arlington Heights, and Jane Adams and Brooks Middle Schools of Bolingbrook. Parents, family members, community members and spectators were asked for donations at the door.
There were other fundraising opportunities such as a halftime three point shot challenge, a three-point shoot out in the warm up gym where prizes were awarded to winners, and a fifty-fifty raffle collected by middle school volunteers. The concession stand, run on donations and volunteers, was also designed to support Special Olympics, IL.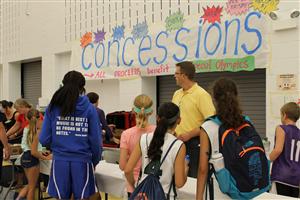 Over $1000 was raised to be donated to Special Olympics, IL, yet the monetary support was an added benefit to the overall message of the night.
"The donation is obviously very important, but just take a second and look at the crowd," South Girl's Basketball Coach Scott Mctague said. "The idea of this was to give our audience a chance to better understand the abilities and impact the Special Olympics athletes have. Tonight, we did that."
McTague worked closely with Officer Pete Hamrick of the Arlington Heights Police Department, who is happily in charge of the Law Enforcement Torch Run effort, which benefits Special Olympics, IL, to put this event on.
"I took over our LETR efforts a little over a year ago, and I love it," Officer Hamrick said. "I love meeting the Special Olympic athletes and messengers and seeing the word spread. This is a true partnership and tonight showcases that."
Forty-seven years ago, the first international Special Olympics Summer Games were held at Soldier Field in Chicago. On Friday night, two communities, eight teams, one police department and Special Olympics, Illinois joined forces to recognize what has grown to an organization featuring 4.4 million athletes and as many as 80,000 events and competitions held annually.
The Brave Challenge may have been one of 80,000 but the message impacted both communities in a big way.