Return to Headlines
Thomas and Ivy Share Culture with Futabakai
November 9, 2015
Arlington Heights, IL – An exchange of culture, language, customs and of course gifts took place last week at Thomas Middle School and Ivy Hill Elementary as District 25 welcomed students from Chicago's Futabakai Japanese School for the day.
This partnership has been ongoing for years between District 25 and Futabakai, and it centers on the idea of engaging students in learning first hand about backgrounds different from their own.
"We go to their school to witness their culture and they come here to be a part of our culture," Global Perspectives teacher at Thomas Middle School, Katie Biewer, said. "The goal is to share culture with one another."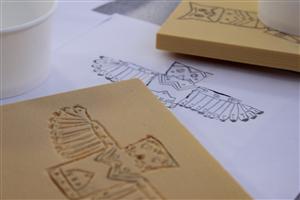 At Thomas, students decided on four culturally significant activities to participate in with the Futabakai students on their exchange day including kickball, an art project using foam lithographs to teach students about totem polls, classroom games such as Heads Up, Seven Up and Four Corners, and a Minute to Win It station set up to mimic the famous game show seen on TV.
"Students were in control in deciding and organizing three of the four events scheduled," Biewer said. "The students decided to focus on sharing what they do in life for fun by showcasing at school games and at home games they play."
There were teaching and learning moments shared by students from both schools during all of these activities, and often times a language barrier to overcome, but that didn't stop some students from making new friends.
"It was interesting to learn about the different culture," Thomas student, Connor Thiessen said as he sat in a group of three, working on his totem poll design. "I have definitely made new friendships."
One new friend of Thiessen is Ryoya Washido, who was in the group of three, and had taught Thiessen and others about taikos, a group of traditional Japanese drums.
Washido, like many Futabakai students, is from Japan and moved to America for a shorter period of time. Futabakai's curriculum is in-line with the Japanese school system, so this allows many Japanese families who are in America for only few years to keep their students aligned with school for the move back.
"I really enjoy learning about American culture and the different games they play," Washido said.
After the daylong activities were finished, the schools came together for some final words and a gift exchange. Thomas was given a Japanese lucky coin and Futabakai was given a statue of a turkey to represent the upcoming Thanksgiving holiday season.
Just one day later, Ivy Hill Elementary's First Grade English Language Learners teacher, Lindsay Barbanente, hosted an elementary, Futabakai classroom. The students participated in many educational activities to teach tech skills and literacy skills. Of course, all shared an energetic and fun recess period.
Barbanente leapt at the opportunity to host the Futabakai students and the experience didn't disappoint.
"I wanted to participate in this exchange for my students to learn about a different culture," Barbanente said. "I also wanted to personally learn about how the structure of Japanese school is different or similar to ours."