Return to Headlines
Cardinals Honored Who Show C.A.R.D.S. Traits
November 9, 2015
Arlington Heights, IL – The halls at South Middle School were quiet and empty on a chilly Monday morning, except for just outside the library media center.
There, several South parents gathered over coffee and doughnuts to watch as their children marked their name on the newly painted and designed second floor, east hallway wall.
Today, students nominated by South Middle School teams, were honored by South administration, as being students from the first quarter who best displayed the highest form of C.A.R.D.S. traits. These C.A.R.D.S. nominees showed Caring, Achieving, Respectful, Dedicated, and Serving characteristics, and thus were allowed to be the first students to make their mark on the dedicated wall.
Pictures were snapped, smiles were had, and proud eyes from parents and staff focused on the Cardinal students as they signed their name and the year to mark their place on the C.A.R.D.S. wall, which will stay up for all passer buyers to see.
"This is a great honor," one parent commented in passing to another parent. "What a fun thing for our kids to do."
A new quarter is underway, thus a new opportunity begins for students to step up and writer their name on the C.A.R.D.S. wall.
Cardinal Caring Awards, Honorees:
Eighth Grade:
Ali Abdallah
Grace Anderson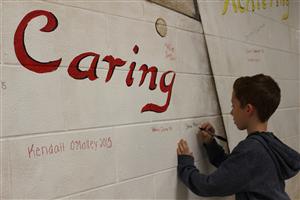 Sergio Castro
Valerie Depa
Jenny DeSalvo
Nick D'Onofrio
Evelyn Greenbury
Jonathan Kho
James Makarski
Braden Muhr
Max Ness
Kendall O'Malley
Adrienne Powell
Sophia Salemi
Lily Sander
Xochitl Soriano
Matthew Woloch
Seventh Grade:
Leah Chacko
Jamie Costible
Keegan Dunnington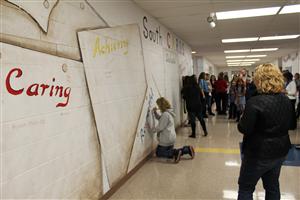 Robbie Herrmann
KC Jones
Stephanie Leigh
Sophia Limberakis
Jairo Mata
Dan Ness
Sean Peabody
Lukas Slifie
Kevin Stokes
Connor Strubbe
Sixth Grade:
Marie Fundora
Michael Gallagher
Moira Hickey
Ari Kemperas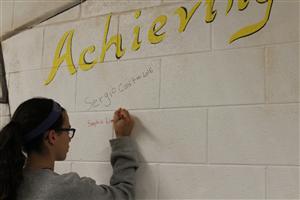 Daisy Mendez
Shea Morris
Meghan Paral
Kasper Parobi
Triniti Pearsall
Maggie Shoemaker