Return to Headlines
A Deep Rivalry Benefits Special Olympics Illinois
November 23, 2015
Arlington Heights, IL – School Resource Officer for the Arlington Heights Police Department, Rick Veenstra, stood in front of a packed Thomas Middle School gym and introduced two guests of honor for the South versus Thomas boy's basketball games last Wednesday, November 18th.
"Today, we are excited to watch basketball in benefit of a great cause," Veenstra said as he handed the microphone over to one of the guests of honor.
"Thank you! We are all going to be great!" Special Olympics Ambassador, Stephen Katz proclaimed.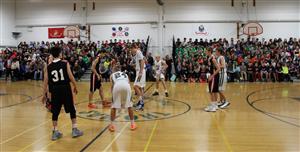 Katz and good friend Matt Kaman are both highly decorated Special Olympic Athletes who enjoy their role as ambassadors for their sport. They attend local fund raising events to tell their story.
"I have participated in all of the events," Kaman said. "After tearing my ACL, I needed to just focus on power lifting."
This was the second installment of the Brave Challenge where the Arlington Heights Police Department, Arlington Heights School District 25, and Special Olympics Illinois teamed up to raise funds to support Special Olympic Athletes.
Kaman and Katz wore their medals earned from competing in Special Olympic events over the years. Just their presence and determination alone motivated the District 25 players participating in the game.
"It's important to raise money to help those who need it," Thomas eighth grade basketball player, Nathan Cole said. "It also makes me think about what I have in my life and be thankful."
Back in September, the first Brave Challenge took place at South Middle School with the girls' basketball teams on the court. In that challenge, South and Thomas shared the Arlington Heights fans, as schools from Community Unit School District 365 were the opponent. This time, the South and Thomas rivalry fueled the crowd and the donations.
"I am excited the Brave Challenge is here at Thomas because we are hosting our district rival," Thomas Principal, Brian Kaye said. "There is excitement in the air with our annual competition, and this event has enhanced the atmosphere and has helped us focus on what is best - helping others and giving opportunities to those who have a disability, setting aside the focus of who wins or loses the games."
The rivalry has deep roots because all of these students have played on similar leagues and sometimes on the same teams growing up.
"The fact that these kids play against each other all the time, adds to this rivalry," Thomas Eighth Grade Boys' Basketball Coach, David Keller said. "This is a great opportunity to raise as much money and awareness as possible because this is a rivalry that, as you can see, draws a big crowd."
Keller was right. The crowd was animated, vibrant and large for a middle school, regular season basketball game. Loud chants competed and, promoted the two teams on the court.
"Let's go South!" the left side chanted.
"Let's go Thomas!" the right side responded.
The dust settled and the eighth and seventh grade teams faced off. South won both games, but the true spirit of Arlington Heights was felt for a cause which everyone supported.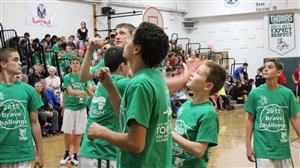 "These games are so much fun," Cole said. "South is good, but it's great to benefit a great cause to go along with the excitement of the game."