Return to Headlines
Student-run movement at Ivy generates over $1,400 in donations
February 24, 2016
Arlington Heights, IL - As students walked into Ivy Hill Elementary this morning, all of the chatter was about the big drawing that was going to happen after lunch.
"I put my tickets in the Jimmy John's bucket," one student said.
"I want to win the gum ball machine," another student responded.
These students had a chance to win these prizes as a result of the effort, time and dedication of ten young fifth-grade girls who spearheaded a campaign last year to help raise money for Comer Children's Hospital in Chicago.
"We were researching cancer and we saw an ad for Comer Children's Hospital and they were accepting donations," former Ivy Hill student Sahaana Sankaran said, moments before the students recorded the drawing that would be aired to all of Ivy Hill after lunch. "We thought it would be fun to start a fundraiser."
Sankaran came up with this idea last year in Mr. Santos's fourth grade class during their wonder time/passion time. This is part of a personalized learning effort where students are given the time and resources to research their own interests and sometimes turn them into a project.
Sankaran's wonder time idea grew to the point where a team of Sankaran's friends joined in and helped to propel the cause; that is when their idea became a reality.
"We thought we were barely going to make our goal of $1000," student volunteer Leah Klostermann said. "Once we saw how people wanted to help, then it became real."
When the students entered fifth grade, they approached Mrs. Mekky with the project and said they wanted to continue it. Mrs. Mekky opened her classroom doors during lunch recess for the next few months and that became the group who called themselves Help Save People with Medical Disabilities' (HSPMD) campaign headquarters.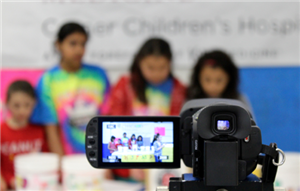 The students put together an operation where Ivy Hill families would donate money in exchange for tickets. The tickets could then be used to enter a drawing of choice for five prizes that were purchased by the school and one donated by a local Jimmy John's franchise. The students launched their campaign, going from class to class, presenting the movement and handing out flyers to be brought home.
"The hardest part was learning that you couldn't always get your way," Aditi Prasad said. "We learned to listen to each other's ideas and compromise based on research."
The students held market research sessions with the boys at Ivy Hill to make sure the prizes selected were of interest to the entire school. Posters were hung up and money was counted during recess time. After the campaign trail came to a halt, and the names were drawn, the girls had a chance to reflect on the experience and the $1,482.86 raised.
"This is going to help the hospital a lot, and that feels good," Prasad said.
Everyone agreed in unison.
Special thanks to Jimmy John's at 1299 N. Rand Road in Arlington Heights for supplying twenty sandwiches as prizes and a Jimmy John's party for the classroom with the most participation.
Other Prizes won:
Perplexus ball
Gum ball machine
Bouncy Ball
Beanie Bag
Amazon Gift Card