Return to Headlines
TMS Wolfpack HOF stronger than ever
May 5, 2016
Arlington Heights, IL – The law of the wolves is unflinchingly rigid: The strength of the pack is the wolf, and the strength of the wolf is the pack.
Wolves may not stray too far from their home, and if they do, they come back to ensure younger wolves can learn from their wisdom and travels.
All that, and more, took place last Thursday morning (April 28) at Thomas Middle School as former Timberwolves were inducted into the Pride of the Wolfpack Hall of Fame with a ceremony.
This year, former Timberwolves Gillian Falknor, Scott Kelly and Ben Brust returned to Thomas to receive their honor and to connect with the current TMS Timberwolves.
"You have teammates throughout your journey," Falknor said. "I couldn't have done any of the things that I've done without my teammates."
Falknor, who played Division I volleyball for Bradley, is an Instructor and College & Career Advisor for GCE Lab School located in Chicago. She told the current Timberwolves a story about how one of her former teachers at Thomas was the one who inspired her to go into education. After her speech, one could see how filled she was with the emotions of coming back to her school and connecting with the current Timberwolves.
Scott Kelly had a dream to be drafted by a professional baseball team, and despite his lack of size and strength as a freshman in college at Penn State, he realized that dream; just a few years back the Kansas City Royals drafted him.
"I am pure proof, standing before you, that anything is possible if you work as hard as you can," Kelly said to his fellow, much younger, Timberwolves as he accepted his honor.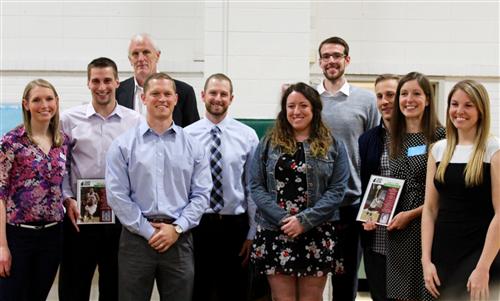 Kelly also preached the importance of his time at Thomas saying how he had recently married and six of his seven groomsmen were friends he met and grew to know during his time at Thomas.
Each honoree was asked to pick their favorite quote and share it with the students, and while the final honoree, Ben Brust, expressed that he wasn't much of a "quote guy" he found one that fit his entire speech perfectly.
"Perseverance over everything," former Division I basketball player for the University of Wisconsin Brust said after watching an intro video of him achieving his goal of making it to the NCAA Final Four. "Why can't it be someone in this gym? Don't let anyone tell you what you can and can't do, because you have the potential for anything."
Each honoree credited sports for helping them gain the discipline and drive to pursue what they wanted in their lives, but made sure to express that sports were just one way to pursue a passion.
"It doesn't have to be sports," Kelly said. "It can be science, music, dance, academics. Whatever you do, you have to give it your all."
This was the fourth year in a row Thomas inducted honorees into their Pride of the Wolfpack Hall of Fame, and all have come back to Thomas to accept their award and speak to the students.
Most even fly back and attend the ceremony every year, like Dave Corzine, a former NBA player, Tom Nelson, a former NFL'er, and Luke Fabrizius a former basketball player for Dayton.