Return to Headlines
Young minds paving the way for science in Illinois
May 10, 2016
Arlington Heights, IL – As many young students from around the state hit their well-deserved snooze the morning of Saturday, May 7, hundreds of other young minds were busy forging the future of science in Illinois.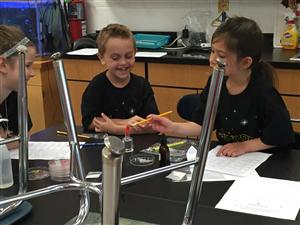 Elementary students from all over the area, armed with their knowledge and passion for science, filled South Middle School for the first Elementary Science Olympiad event in Illinois' history. These students, armed with practice hours and teammates, competed in many different hands on Science Olympiad events that displayed their knowledge in trajectory, bridge engineering, aerodynamics, the weather, biology and anatomy.
"I just can't say enough about it," South Middle School science teacher and Science Olympiad coach Kim Dyer said. "We are all so grateful that we were able to be part of something really good."
Dyer heard that Science Olympiad Illinois was planning on hosting an elementary pilot program, and Dyer saw hosting the first ever event as another way to showcase District 25's and South Middle School's pride and passion for science.
"Hopefully this will expand Science Olympiad Illinois' reach to the elementary students on a permanent level for future years," Dyer said.
Dyer's middle school Science Olympiad students volunteered their time to help assist throughout the day, as the second through fifth graders from schools over the northern region of Illinois took the science challenges head on with excitement and gusto.
"Kids are more curious at that age," District 25 Science and Social Studies Coordinator Melanie Zenisek said. "It was so fun to capture their excitement and interest and show them all of the things they can do when they get to middle school and high school science."
Zenisek ran one of 11 events that ranged from building and flying an airplane to a target to identifying mysterious powders using only a few tools. Each of the thirteen teams that attended medaled in all 11 events, showcasing the depth of knowledge and passion in elementary science.
"The students were so excited to be in a middle school science atmosphere," Zenisek said. "They cheered for one another, organized their team structure, and communicated effectively. The energy was so great."