D25 Stories & Podcasts
Page Navigation
Return to Headlines
First time journalists cover OMS's World of Work
This year was the first that Olive-Mary Stitt's fifth grade class ventured to downtown Arlington Heights and experienced a day in the life of a working adult.
Our Owls took on a day in the life of a server/waiter, librarian, jeweler, fro-yo employee, chef, baker, boutique salesperson and even reporter, and soared.
Below is one students reflective piece as to what it was like to both experience World of Work, but also, what it was like to report on World of Work.
The first-time journalists covered the event with passion and excitement, and that is shown in the piece below.
My first day as a journalist
March 2, 2018
By: Alex Fiore
Arlington Heights, IL - It is hard to explain how much fun I had learning to be a journalist with Mr. Harris, but I'll try.
First of all, I never actually interviewed anyone but with Mr. Harris, he made that easy. He incorporated fun into a hard job and he made sure things weren't that confusing. As a new reporter, I got to pretend I was in a press conference and ask him about District 25.
"Will there be any new schools coming into D25?" I asked.
"No but there have been four major construction projects completed over the last two years," Mr. Harris said.
After that Mr. Harris told us that we were going out to find our fellow World of Work students and interview them. I became excited because I have always wanted to interview people about how they feel about their job or how they feel about politics. It looks like my dream came true. First I interviewed another student, Karol K, who was working as the Circulation Aassistant at the Arlington Heights Memorial Library.
"What word would you use to describe working here?" I asked him.
"Fun," he said.
"Why is it fun?" I asked.
"You are able to help people," Karol said. "It can be confusing sometimes though, but most things are easy."
"Do you always work behind the counter?" I asked.
"No, not always, we sometimes put the books back on the shelf or help people find what their looking for," Karol said.
When I finished that first interview, I felt so good and I wanted to do 100 more. Even though I didn't get to do 100, I still was happy.
After the Library we went to the Egg Harbor Cafe in Downtown Arlington Heights. I interviewed Owen D., Assistant Waiter and Captain Pan, Assistant Wwaiter. Both of them said it was awesome to work at Egg Harbor, but Owen used the word 'chaotic'. That really stood out to me because most kids don't use that word.
He also said it was fun taking orders and dropping off food. I went back to the group and politely asked for a couple mints so I could 'Yelp' them.
Next I went to the UPS store, where I interviewed a Box Manager, Ryan B.
"What do you like about working at the UPS store?" I asked.
"I like working with the boxes." he replied
I asked a follow up question: "What do you like in general about World of Work?"
"It helps you figure out what you might be interested in when you grow up and need a job," Ryan said.
I thanked Ryan and left.
One of the things that I really liked about walking around is that Mr. Harris added humor to the things he said. For example, the door at the UPS store was a wooden board and Mr. Harris said that I could've wrote a story about that.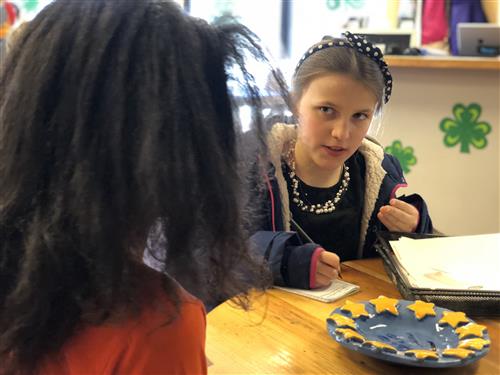 I had the time of my life with Mr. Harris. and I am definitely a 10 out of 10 happy, and I would do it again. I might even become a journalist someday just like Mr. Harris!