Posted by Adam Harris on 9/28/2017
Greenbrier Elementary
At the District 25 School Board meeting last Thursday, the construction bids submitted to expand Greenbrier were unanimously approved. This means that the project has gone through all of the correct levels of approval (Village Plan Commission, Village Board, District 25 School Board) to now begin construction.


What new spaces is Greenbrier getting?
When this project is all said and done, Greenbrier will have four brand new classrooms located in a new south wing. This two story wing will also contain three to four ancilary group/teaching spaces that could also be used as offices.
Outside the building, the expansion will add a new Early Childhood playoground and ten more parking spaces to the south, west lot off of Roanoke Drive.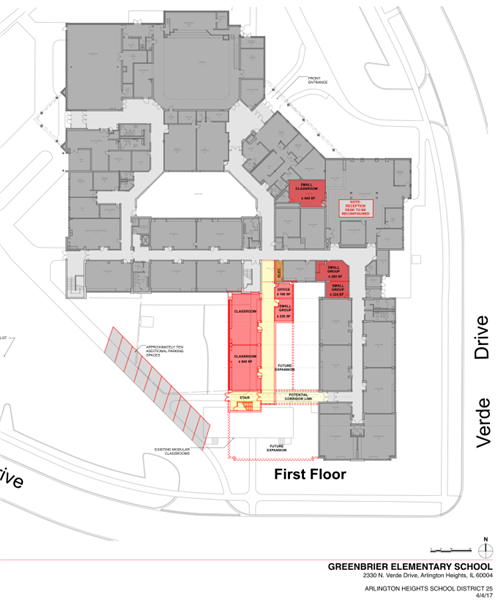 What exsisting spaces will be improved at Greenbrier?
The timing of this project works well as Greenbrier has exsisting building projects due that were included in the bids approved on Thursday night. It made sense to tackle these projects such as new roofing for a number of sections, air handler replacements throughtout entire building and energy efficient lighting improvements along with the expansion project.
The exsisting building will also see a new playground for the main building built.

What is the timeline for this project?
Friday, September 29 - Fencing goes up.
Week of October 2 - Prep work to begin.
Mid October - Groundbreaking on addition/expansion.
Summer 2018 - Work begins on the interior.
First Day of School 2018-2019 - Entire project is complete and ready for students.


When will I start to see an impact as a parent? What will it look like?
On Friday the fence will go up for the project. Bobcats and small equiptment will be on site for prep work beginning next week.
The traffic proceedure for drop-off and pick-up remains unchanged at this time.
The EC playground will be temporarily closed during construction but the building is making accomidations for EC's outdoor time.