Arlington Heights School District 25

In the very first D25 Pop-Up Podcast, Superintendent Dr. Lori Bein answers any questions there might be about where District 25 is at with its Strategic Planning process, specifically focusing on the study of the current aspects and future potential for the kindergarten and advanced placement programs in District 25.
January Calendar Reminders
No School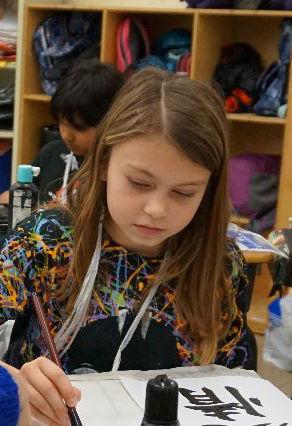 Monday, January 16 - Martin Luther King Jr.'s Birthday

Monday, January 23 - Institute Day (Staff Only)
End of second quarter for Middle School
January School Board Meeting
Thursday, January 19, 2016

Dryden Elementary School

The agenda will be posted Monday, January 23 on our website.
View a printable version of the yearly calendar.
View the 2017-2018 school calendar here.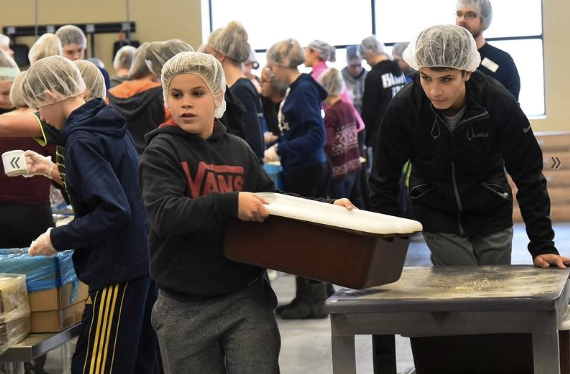 Two South 8th graders rush to grab more supplies so their fellow Cardinal students can keep filling boxes with food at Feed My Starving Children in Libertyville.
South Middle School visits Feed My Starving Children
An effort that began six years ago with about 18 students has now grown to include nearly 300 students and many teacher and parent volunteers. The entire 8th grade class at South Middle School visits Feed My Starving Children once a year to donate their time and raise funds to benefit children around the world who lack food.
This year, students raised nearly $1000 by selling bracelets to the South community, and that was matched by a private firm that was in attendance when South presented the donation to Feed My Starving Children.
Middle School Creative Arts Parent Night
In the fall, both South Middle School and Thomas Middle School opened their doors to their creative arts spaces for parents. Students lead demonstrations in Art, Music, Drama, STEM, Communication Media Arts and Digital Arts and Design. Parents had the opportunity to engage in projects with the guidance of their students.
Click here to watch the video. (1:35)
Blackhawks' Niklas Hjalmarsson visits Thomas
Last April, the Thomas Middle School community participated in the Pass It On Donation Challenge with Goodwill stores. The goal was to see which elementary/middle school in the metropolitan Chicago area could donate the most gently used clothing and household items between the dates of April 1 and April 30.
Thomas Middle School won by donating over 70,000 items. Dryden Elementary School was the runner up with over 65,000 items, and Patton Elementary School took home seventh place! Congrats to all who participated!
Around the District (Click on the picture to read the story)

Just Move It! Challenge 5K & 1 Mile run/walk
April 22nd at South Middle School

We are looking for local businesses/organizations/individuals to sponsor.

Contact jmichallenge@gmail.com.

Congrats to Jaret of Ivy Hill! His t-shirt design was selected to be the Just Move It! Challenge logo this year.
$70,000 in grants for 2016-2017 school year!
$22,500 - All D25 schools will receive a $2,500 Membership Incentive Grant

$25,000 - 48 teachers will receive Karen Wessel Barr Teachers Grants

$23,902 - Nine teachers will receive Marian Elliott Teacher Grants
Calling all parents! Please give us your feedback through the 5Essentials Survey. The survey contains no open ended questions and it usually takes 20 minutes to complete. This survey helps to inform state policy and improvement initiatives, yet it is primarily intended to help local educators, such as teachers, principals, and superintendents, identify strengths and weaknesses at the district and school level and better target resources and interventions.
The deadline for completion is January 30, 2017
---
G2KY Podcast, Jan 2017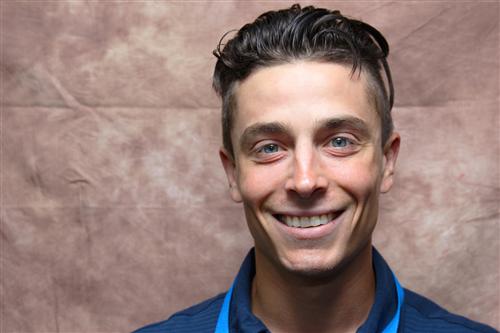 Communications Coordinator Adam Harris
"When there is a lack of information, that turns into misunderstandings and that allows people to fill in the gaps with their own stories. Opening the window to the classroom is a great place to [limit those misunderstandings]." - Adam Harris
This month's GTKY Podcast features Communications Coordinator, Adam Harris.
What changes have there been in District 25 communications?

What will be the future of District 25's communications?

How can you stay most efficiently connected with District 25?
All that and more, right here!
---
Attention all 5th Graders!
It's time to choose a language for middle school. Registration for a World Language class begins February 1st.
If you're going to Thomas Middle School, you can select from French, German, Mandarin Chinese, or Spanish.

If you're going to South Middle School, you can select from French, Italian, or Spanish.
What language or culture interests you?
---
Reminder: Student Presenters Needed!
SIT Conference at South Middle School
South Middle School is very excited to be hosting the Students Involved with Technology Conference (SIT Conference). This annual conference is attended by and completely presented by 3rd through 12th grade students. While adult volunteers from local schools and the community help the day run smoothly, all presentations are prepared and presented by the students!
Click here to view the informational flyer.
Registration closes January 20, 2017.
Conference Date - February 11, 2017
Remember to also check out our e-flyers page on our website for programs and offers to the community.
This communication was put together by District 25's Communications Coordinator Adam Harris. Email feedback: aharris@sd25.org.
1200 S Dunton Ave., Arlington Heights, IL 60005