Return to Headlines
January 27th, 2016
Can you start by telling us the details of your career in District 25?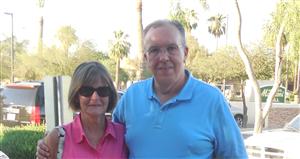 I started in District 25 in1973 as a shop and art teacher at Rand Junior High. Ten years later Rand closed and I transferred to Thomas Junior High to teach the same subjects. During that time I earned my Type 75 degree, and in 1986 I went to Barrington Middle School as a Dean of Students. After three years I came back to Thomas as its Associate Principal. Then, in 1996 I went back in to the classroom because the many administrative meetings took away from time I wanted with the kids in a classroom setting. I finished my career as an L.A. teacher. Then I was 'Out the door in '04'.
What is your fondest memory of working in D25?
My fondest memory of working in District 25 was studying the Middle School Concept under Dick Hanke in 83-84. In 84-85 we went to that concept in D25. The staff that was on that committee worked hard to make it do-able for everyone involved. During that time we also won the National Excellence in Education award. Working with all those involved staff members and community members was a real joy right up until several of us went 'out the door'.
Finish this sentence: "I remember when…"
I remember when….the students and staff at Thomas responded to our Adopt a Family drives. It began as simply helping two to three families but then it grew into a program that the entire Thomas community got into; each TEAM sponsored 2-5 families. The joy in the kids' eyes when they saw families receive their gifts was so special. Then, they came back and shared that joy with all of the others at school. It felt so blessed to work in such a great community.
What have you been up to since retiring?
Since retiring I have worked at several schools as a consultant, coordinator, and Reading Corps Assistant. I also worked at the Arlington Park Race Track for two seasons with Rick Watson. That's where we worked on our "schmoozing". I also worked with low-income kids who needed after school tutoring and mentoring. So, I guess you might say, I have kept on teaching. Oh yes, I also got to babysit two of our three grandkids for a couple of school years. Now THAT was living large.
What did you enjoy most about working in D25?
As I reflect back on my time in D25, the people I worked with, the students I taught/coached and the parents I came to know were the source of my joy. Of course, the successes that the kids had, the Taft trips, the water fights on the last days were fun, but still, it all boils down to the people.
How's the fam…?
My wife Carol is finally retiring at the end of this school year so we can now do trips to see the kids and grandkids whenever we want to. Beth is in Phoenix and is an instructional specialist in special education, and she works with several districts. She and Tom have two great kids, Lily (9) and Dean (7). Patrick is in his tenth year with the symphony in Cincinnati and he and Kelly have a daughter Ceora who will be two in March. We are proud parents and we are also glad that we can now travel at any time, not just during school vacations. It is really HOT in Phoenix in the summer. Just because it's dry heat, doesn't mean it's not HOT.
Any message to the Arlington Heights community?
Stay involved and positive. Parents and teachers working together make for a great bond that will help the children know that education is important.