Return to Headlines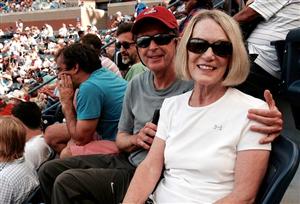 We remember WHEN Mrs. Brodnan taught at Ivy Hill, Kensington, South and Miner Jr. High, and she remembers a lot more! Mrs. Brodnan was kind enough to give us a few minutes and answer some questions to get us all caught up on her life since retiring. The following is what we found out!
Can you start by telling us the details of your career in District 25?
I was fortunate to be able to stay at home and have a part time job in this wonderful district when my daughter was just three years of age. I began my career as a homebound tutor where my duties were to go into the home of students who were challenged medically or had special needs and coordinate their instruction with their classroom teacher so they could continue to learn at home. Also, I worked as a special education assistant at Miner Jr. High, which is now closed. I held these positions for one year before I was hired as a fifth grade teacher at Kensington School, which is also now closed. After one year at Kensington, I ventured to Ivy Hill Elementary to teach fourth, fifth and fourth-fifth, multi-age grades. I taught at that excellent school with great colleagues, students, and families for many years before going to South Middle School where I became a sixth and seventh grade math teacher for many years. At South, I was privileged to be a part of a wonderful staff devoted to making learning fun, and to working with great children and families. I also enjoyed being a team leader at the elementary and middle school levels. After my time at South I moved to Central Office and became a program coordinator. My final position before retirement was held at South Middle School as an Associate Principal. I retired from this position but stayed involved within the district by working back at Central Office and as a maternity math substitute at South Middle School. Once the maternity stint was over, I ran the Summer U program out of Central Office for the rest of the year.
What is your fondest memory of working in D25?
My fondest memories in District 25 center around the times I had in the classroom with our students. They always came up with fun expressions and ideas that constantly amazed me. At the end of the year we would evaluate our time together and I was so proud of all of them and how much they'd grown. I was always so thrilled when I knew they were ready for the next level.
At the end of the year we would always discuss the great adventure that was ahead of them as we said our good byes. That was always sad, but rewarding!
Finish this sentence: "I remember when…"
I remember all the wonderful colleagues who were willing to share ideas and mentor me to become a better teacher and team leader. My colleagues and I had many exceptional times where we shared fun experiences in and out of the classroom. As a fifth grade teacher, I remember chanting, "go Thomas" with my students as they left for middle school. I didn't want them to be sad about leaving Ivy Hill, but rather I wanted them to look forward to a new beginning at Thomas Middle School.
From South, I have wonderful memories of the Lorado Taft trip with my seventh grade students, as it was an opportunity to see their personalities come forward. It was exciting to watch, as they were intricately involved in hands on learning. It always helped to build their love for education. The Central Office job gave me valuable insight and experience as to how the district functioned as a whole. I have so many wonderful memories of my years in District 25 that will always stay with me. I feel so blessed to have been a part of such a dynamic, friendly, and collegial district. The district was always forward thinking and planning curriculum that would engage all learners to develop to their full potential.
What have you been up to since retiring?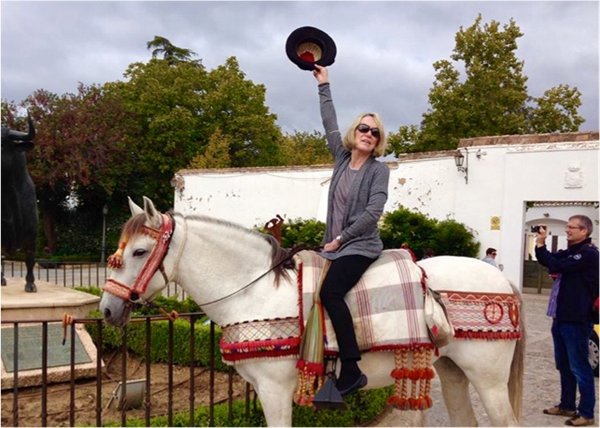 For a few years after retiring, I supervised student teachers from the University of Illinois. I have relaxed with my husband, who is a former teacher/administrator in District 214. We have taken trips and enjoy time with our grandchildren. We have also traveled to many countries, and I have traveled with different groups of friends to many countries. My latest was a trip to Spain with some former educators that I worked with in District 25. I love seeing former students in my neighborhood and around town. I also use social media to keep in touch with former colleagues, students, friends, and family. I am enjoying life!
What did you enjoy most about working in D25?
I most enjoyed the students, families, colleagues, who all gave their time and influenced me in both my professional and personal life. I am eternally grateful for all of their time devoted to creating an environment where kids could learn and grow.
How's the fam…?
My family is a blessing. My daughter, son-in-law, and two grandchildren live close to my husband and I and we're privileged to see them often. We babysit and take them to the arboretum, zoo, and other fun outings. We have enjoyed vacations together several times to Kiawah Island, South Carolina. We love our family and they are teaching us so much. My husband still works in District 214 as a tennis coach. He could not coach as an administrator, so now he's making up for it! I also play tennis and belong to a bridge group that has been together for many years. We don't play a lot, but we visit a lot!
Any message to the Arlington Heights community?
My years in District 25 were some of the greatest years of my life. They go fast, so enjoy the time you're spending in this fabulous work environment now! I will always be in debt to my colleagues, the children, and parents that I was privileged to work with and I thank them for their commitments to a better education for all the children in the district.
To the District 25 family now, remember you do an important job! You are all so valuable. You change lives and your life will always have meaning because of all you do. Keep up the fabulous work you are all doing!